Fall foliage outings are always special, but when seen from the deck of a boat, the experience can be magical. You still have time to plan your escape, so grab your sailboat, fishing skiff, personal watercraft (PWC),  or kayak and check out these ten beautiful spots around that welcome autumn with a bang.
The Top 10 Fall Boating Destinations
1. Columbia River Gorge, Oregon/Washington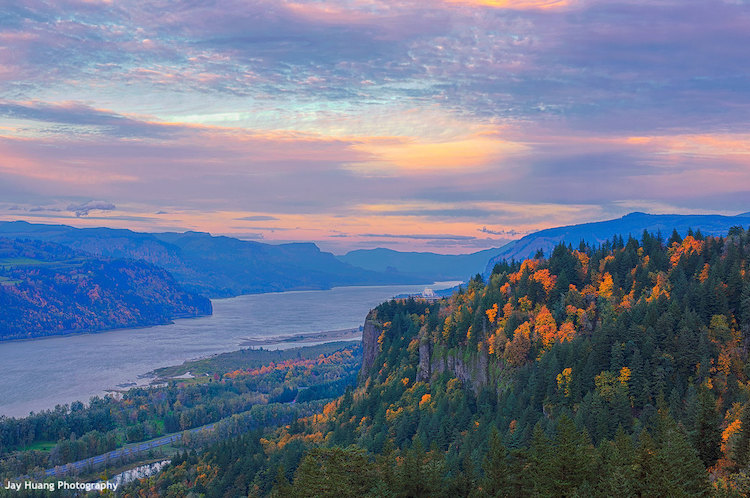 The Pacific Northwest is spectacular year-round, but in the fall, the plentiful trees light up with color. 

The Columbia River, which flows between Oregon and Washington, is center stage for foliage displays. The gorge is a canyon up to 4,000 feet deep that extends from the confluence of the Columbia and Deschutes rivers over 80 miles to the west. Peak leaf viewing lasts approximately two weeks between late September and early October.
2. Lake Tahoe, California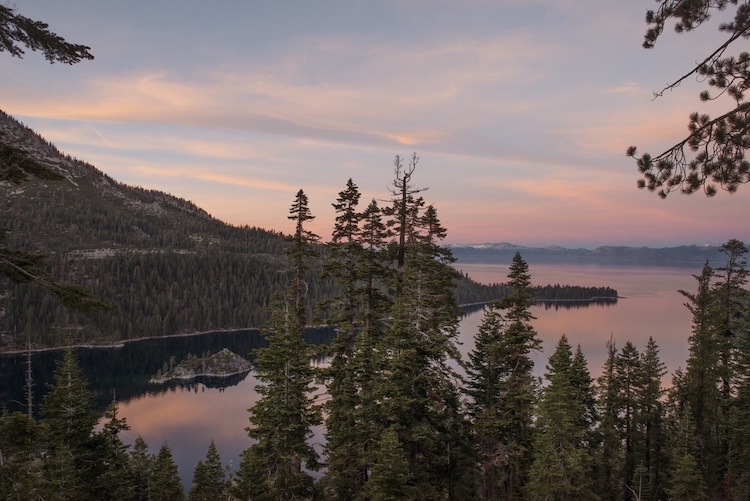 Lake Tahoe is a busy recreational area throughout the year, with winter skiing and summer boating activities. From September to late October, there's another reason to vacation here: the myriad colors surrounding this freshwater lake in the Sierra Nevada Mountains. Just 40 miles from Reno, Lake Tahoe is easy to access and welcomes everyone to enjoy the show.
3. Dillon Reservoir, Colorado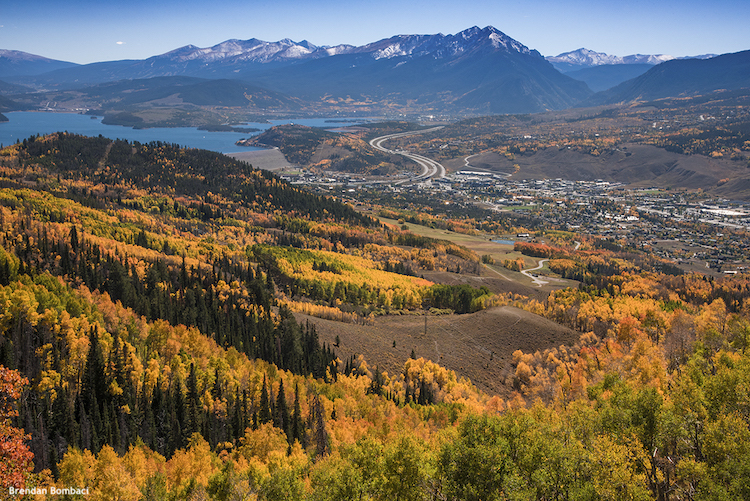 Dillon Reservoir in Summit County, Colorado, is just 45 minutes from downtown Denver, but its Rocky Mountain setting might as well be in another world. 

The Dillon Yacht Club, founded in 1968, is the nation's highest sailing club, with an elevation of 9,017 feet above sea level. The marina offers pontoon boats for rent, and the club organizes sailing regattas, including the Frostbite Series in late September. Aspen trees comprise much of the surrounding foliage, so the area brightens with vivid yellows and golds in the fall.
4. Door County, Wisconsin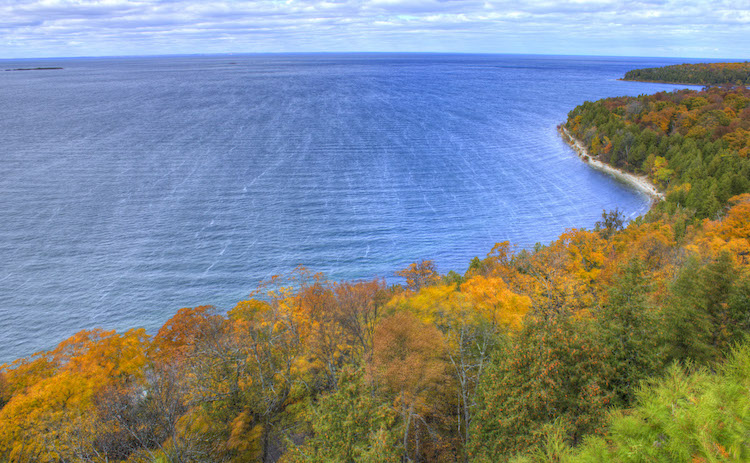 Just an hour from Green Bay, Wisconsin, Door County sits on a peninsula that juts out onto Lake Michigan and lures visitors all summer. But after many of the tourists have left, the 912-acre state park of Rock Island lights up with fiery color.

While there, you can also tour wineries and lighthouses and ride the trolley from eatery to eatery. Or, stay aboard your boat and cruise from Green Bay to Lake Michigan, a journey that can take a week or more.
5. Mackinac Island, Michigan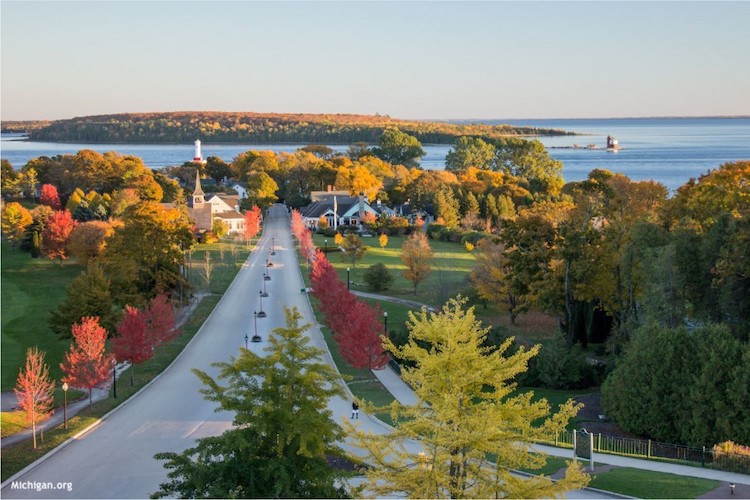 Mackinac Island on Lake Huron is best known to boaters because of the Chicago Yacht Club-sponsored race that concludes there. Mackinac is almost entirely a state park where you can hike, visit Fort Mackinac (which dates from 1780), and relax at the luxurious Grand Hotel that draws visitors from afar. 

Enjoy time on your boat in Mackinac's waters, or take a ferry to the island for a long weekend. The island enjoys its leaf-changing peak in the first two weeks of October, a little later than the surrounding mainland.
6. Acadia National Park, Maine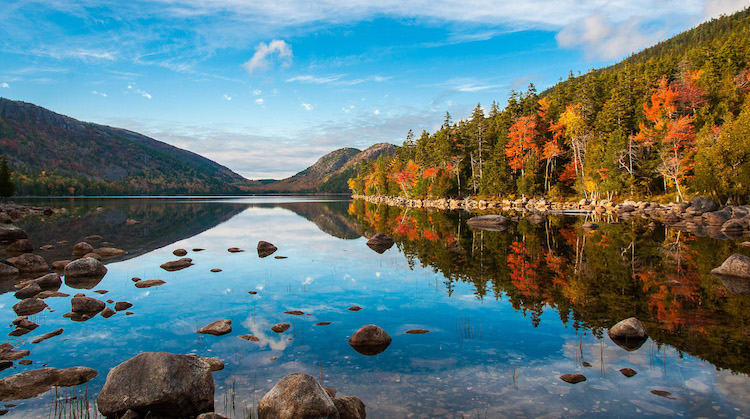 The Maine coast is a boater's paradise, but autumn in the 47,000-acre Acadia National Park on Desert Island isn't to be missed. The coastal color peaks a little later than inland, so you may have more time to catch the brilliant change of birches, oaks, and maples. The entire Bar Harbor region glows with breathtaking hues. 

For foodies, Portland is the place to dock. Rocky beaches, distant mountain peaks, and plenty of moose, bears, and whales will keep you occupied.
7. Hudson River Valley, New York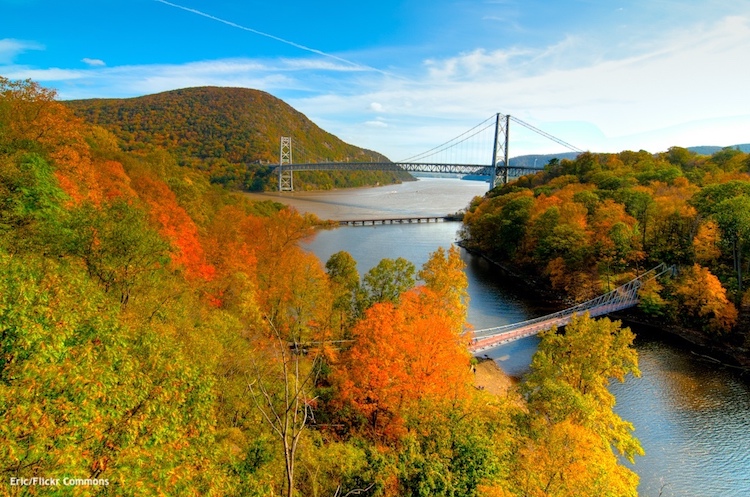 Gold, crimson and purple colors will welcome you to the Hudson River Valley in New York that combines picture-perfect country roads with fabulous river views. Bird watching is big here with bald eagles, herons and egrets making the nearby marshlands their home. For an unusual treat, you can also visit the West Point Military Academy or rent a kayak and visit the river coves in perfect bliss.
8. Lake Nockamixon, Pennsylvania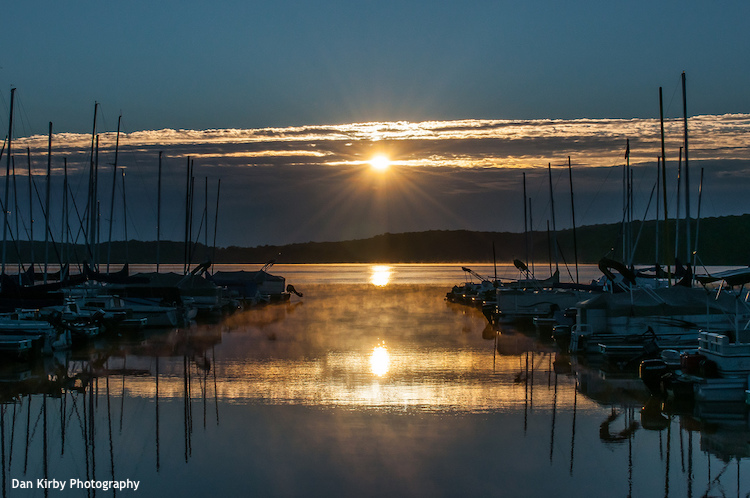 This 5,286-acre Nockamixon State Park in Bucks County makes a great day trip to take in fall colors. The 1,450-acre lake is popular with anglers and sailors alike, and boating novices can take a narrated tour on a pontoon boat.

The park maintains a marina with boat rentals and three other boat-launch areas, so there are plenty of places to get on the water and be dazzled by nature's fireworks.
9. St. Michaels, Maryland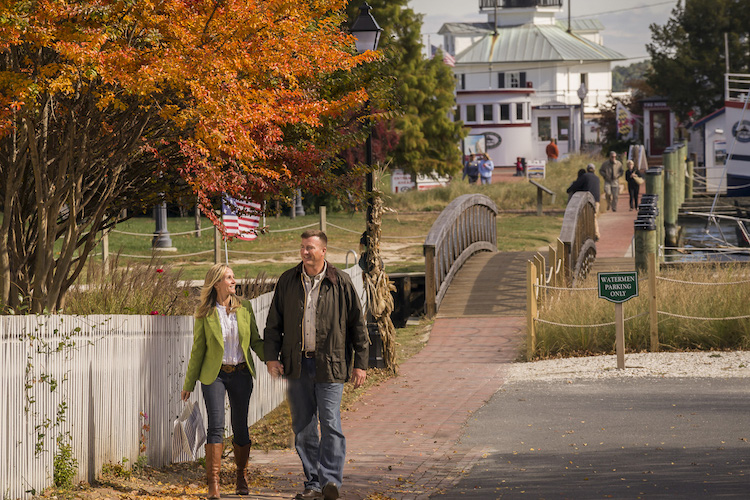 In Talbot County, on the Eastern Shore of Chesapeake Bay, lies St. Michaels, a quintessential mid-Atlantic town where watermen abound. Home to one of the finest maritime museums, St. Michaels has something for everyone, including pie-baking competitions, a pumpkin carving challenge, and scarecrow decorating contests. 
10. Lake Norman, North Carolina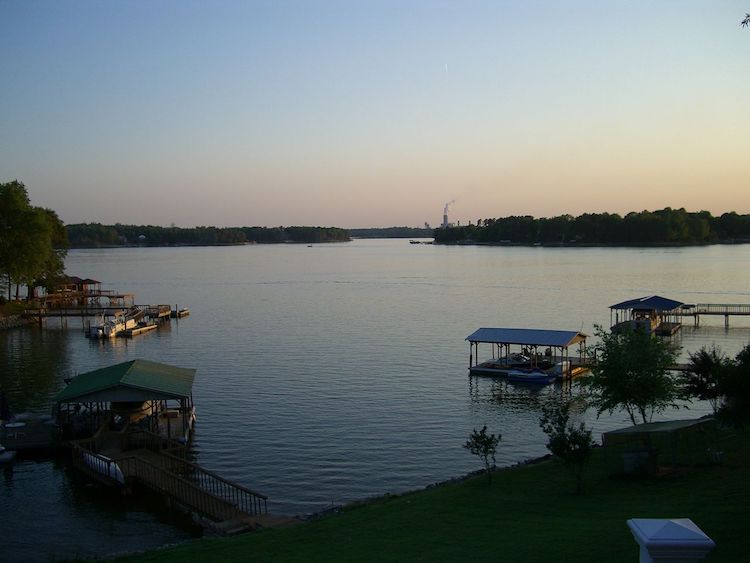 Only about 20 miles from Charlotte, Lake Norman in North Carolina enjoys a mild climate, so the leaf transformation starts in October at the higher elevations and continues until November lower down. 

Lake Norman was created with the construction of the Ford Dam between 1959 and 1964 and is the largest man-made body of water in the state. Boaters of all kinds flock here to ski, fish, sail, and even catch a stand up paddleboarding yoga class.
Hoping to rent a boat near you for your fall foliage adventure?