Annapolis Boat Shows 2019: Fall Preview Guide
Get ready for two Chesapeake Bay perennial events—the United States Powerboat and Sailboat Shows, also known as the Annapolis Boat Shows. Each fall, hundreds of exhibitors are committed to bringing boaters a multitude of shopping and learning opportunities. Boat builders, charter companies, local marine businesses, sailing schools, accessory and apparel manufacturers, yacht clubs and more will have booths at City Dock during the first two weeks of October.
Get Prepared with our Beginner's Guide to Boat Shows
United States Powerboat Show
Usually, the Sailboat Show is the first week of October followed immediately by the Powerboat Show but this year, that order has reversed—the Powerboat Show will be held first from October 3 to 6.
Besides abundant shopping opportunities, the BoatUS Foundation will offer three boat handing courses for $149 each. The classes include three hours of on-the-water instruction and are limited to 3-4 students per boat so personalized attention is assured. On Friday and Saturday, there will also be free seminars offered, which will focus on practical skills like docking, navigation and diesel basics. Registration opens at 9:00 am on the day of class at the Annapolis Waterfront Hotel.
One lucky attendee will win a six-day charter on a 36-foot powercat in the British Virgin Islands courtesy of MarineMax. The runner-up will receive a POP Paddleboard—Royal Hawaiian.
United States Sailboat Show
Seemingly overnight, the city transforms itself from a power to a sail mecca. On October 10-14, sailors will gather for the 50th Anniversary of the United States Sailboat Show. This is an internationally acclaimed event, recognized as one of the world's most comprehensive and prestigious sailboat shows. Hundreds of monohull and multihull sailboats will be on display along with acres of gear in land exhibits that span the entire downtown.
With so much interest in chartering, the show has dedicated a part of the venue to Vacation Basin, which brings together charter companies from around the world to showcase their bases in exotic locations. As a subset, Mediterranean Corner presents companies with dedicated fleets in Croatia, Greece, Italy and Turkey. Lucky boaters can win a weeklong charter in the Med, or a 6-night, 7-day charter in the British Virgin Islands aboard a Moorings 4800 with airfare covered by the British Virgin Islands tourism board.
Not sure if sailing is for you? Try a hands-on First Sail beginning workshop with a 45-minute classroom session followed by 90 minutes of on-the-water instruction aboard a Beneteau First 22-foot sailboat. Four workshops will be offered daily for a fee, which includes show admission. Advanced registration is needed but there's no easier, nor more affordable, way to get hooked on sailing.
The Cruisers University program will offer a comprehensive curriculum on cruising and boat preparedness. Salty sailors can hone their cruising skills with more than 50 classes taught by experts. These popular courses fill up fast and the diesel maintenance and navigation classes are already sold out. University prices include educational materials, expert instruction, breakfast and lunch, evening activities, a one-year basic BoatUS membership and admission to the show.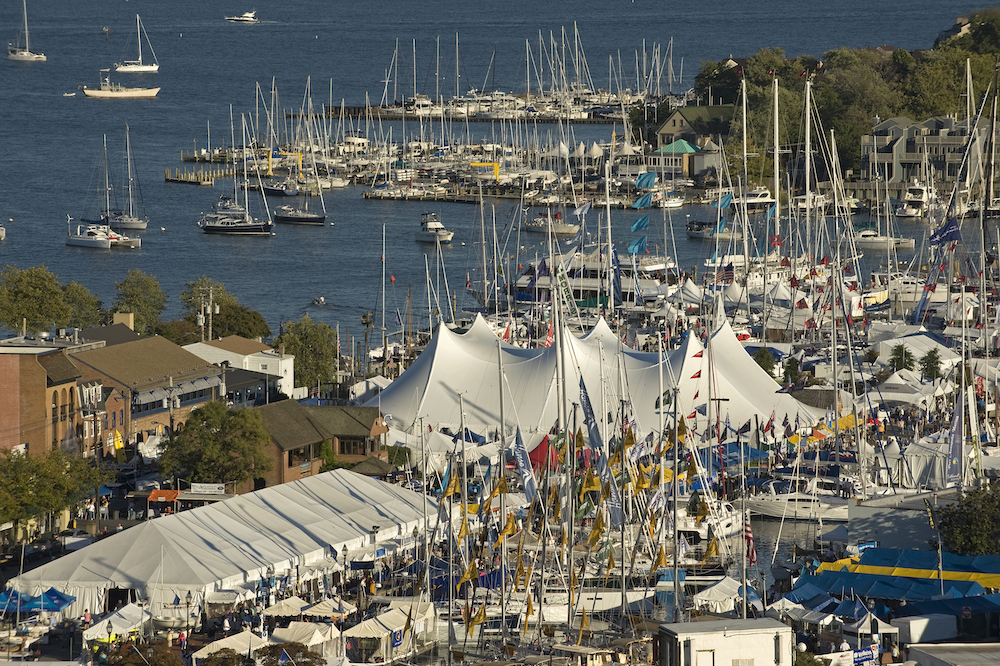 Annapolis Boat Shows Tickets & Additional Details
New boats will be on display at both main events with pre-owned vessels offered for sale at Brokerage Cove nearby.
Admission tickets for either show range from $18 to $35 depending on which day you attend. For a fee, exclusive VIP access is available and includes entry onto a floating lounge with catering and a choice of liquor, wine or beer for sampling. There's also an option for reserved parking at a gate entrance.
Historic downtown Annapolis is a great host venue for all things boating-related with numerous seafood restaurants and Pusser's famous Pain Killer cocktails. Stop by for happy hour and soon you'll be making new friends as well as detailed cruising plans.
For more information, visit the official Annapolis Boat Shows website.
Read Next: Boat Show Buying Tips
---
Looking to learn more about boat shows? Read...