2020 Miami International Boat Show Guide
For nearly 80 years, Dade County, Florida has hosted the Progressive Miami International Boat Show every February, notably, right across President's Day weekend. In 2020, the show is expected to host 1,400 boats and 100,000 showgoers as it showcases a lifestyle like no other.
This year, the Miami Boat Show will be held February 13-17 at the Miami Marine Stadium in multiple tents and at custom-built docks on Virginia Key. Once again, it will be time to tour the latest in power and sailboats, and peruse the most advanced boating accessories, fishing gear and electronics technology for navigation and communications. You may be able to find a deal on a newly debuted boat or buy comprehensive boat insurance, but shopping is only a part of the attraction. Let's look at how the show is a multi-day event for the whole family.
Visit the Official Progressive Miami International Boat Show Website
Things to Do
The show offers much to choose from if your goal is boating education. Reservations are required for some of the events so book early to secure a spot.
Seminars: Ten seminars will be given by marine professionals to help you explore details of fishing, cruising, weather and more. Among the in-class choices is one with award-winning commentator and host of the 35th America's Cup, Tucker Thompson, who will present a multimedia presentation on the Cup's history and what to expect in New Zealand in 2021. Seminars start at $30 and vary in price. They include show admission for that day.
On–Water Experience: Boating basics will be provided in 10 three-hour sessions. The hands-on classes are conducted by experts from BoatUS and will cover topics such as docking, powerboat basics and more. Classes for women will be highlighted.
Youth Programs: The Annapolis School of Seamanship will launch the Junior Captains program for kids ages 13-17.
Career Day: Looking for a career in boating? Visit with the NMMA on Friday morning, February 14, at 9:30-11:00am. Learn about career paths including technical, mechanical, sales, service and more. Marine professionals will be on hand to provide advice and discuss insider tips on working in boating.
VIP Experience: To really make it a special event, purchase a ticket for the VIP Experience held in the lounge at Tent A. Guests will enjoy an air-conditioned indoor space, complimentary food, drink and entertainment, free WiFi and an outdoor deck with views of Miami. Porsche luxury vehicles will be on display and tickets range $155-$180 depending on the day of attendance.
To learn more about what to expect when attending a boat show, be sure to read our Beginner's Guide to Boat Shows.
Boat Shows Beginner's Guide: What is a Boat Show?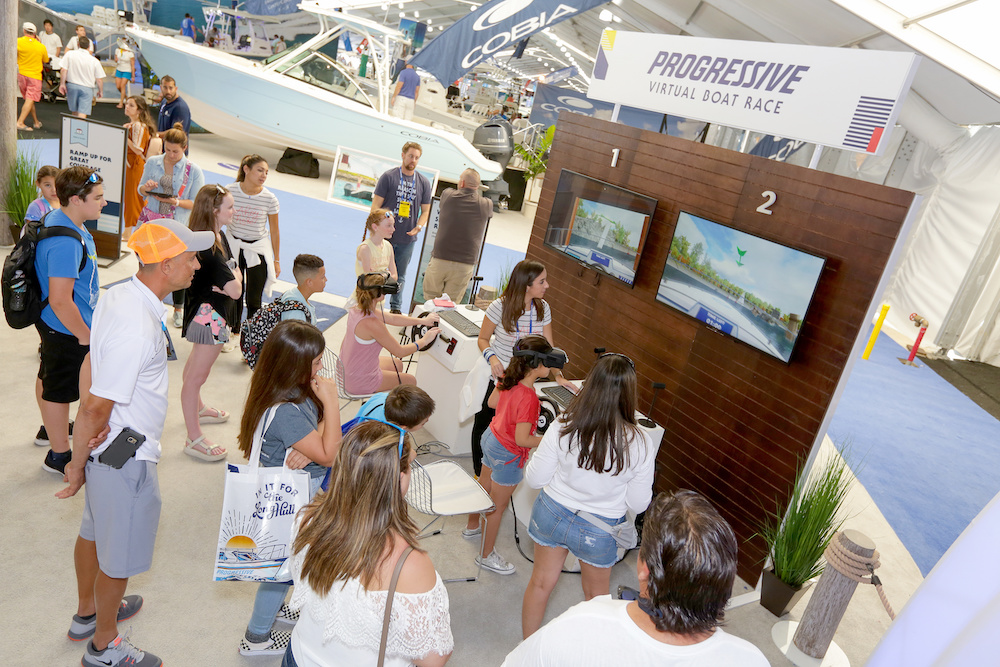 Things to See
There are many ways to preview the fun before you get there as well as experience insider details while on site.
IGTV Channel: Get sneak peeks at what's coming and create a plan for must-see exhibits during your visit with the Instagram TV Channel (@MiamiBoatShow).
Innovation Awards: Every year, a jury of boating writers selects industry winners in nearly 30 categories. The products highlight the best in boats, equipment and services and winners are announced Friday morning. For early-adopters who like to see what's new, the list becomes available to the public so you can chart an onsite itinerary from boat to boat and vendor to vendor. Check the National Marine Manufacturers (NMMA) website after 10:00am on February 14 for a list of the winners.
Progressive Insurance Boathouse: Check out the new virtual reality boating experience hosted by the show's title sponsor, Progressive Insurance. Kids can participate with a parent's permission.
FAQs, Tickets & Getting to the Show
The show is working to make it easier, more comfortable and more sustainable to attend this year.
Transportation: Getting to and from Virginia Key is easier with free water taxis and shuttle busses and a specified Uber drop off. Those coming from Fort Lauderdale or Palm Beach can receive a 25% discount on train tickets via the Brightline Virgin Train by using Code MIBS20. A special shuttle route will run to/from the Ritz Carlton in Key Biscayne to help locals enjoy the show and a new app will provide key information and real-time water taxi updates.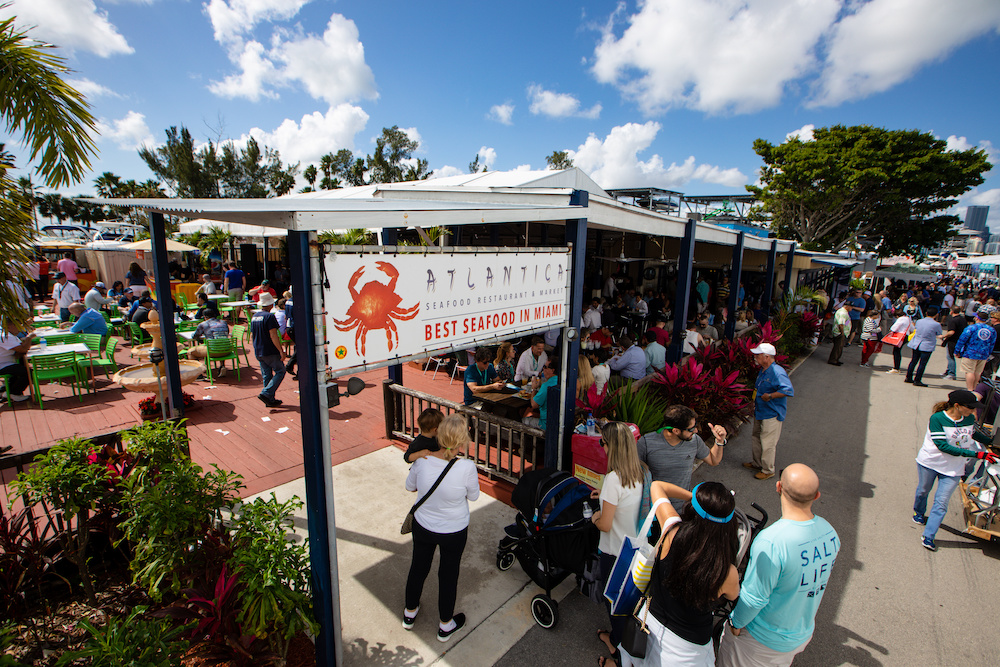 Food & Beverage: You won't go hungry while at the show. Expect to find over 20 dining options from which to choose. The on-premises caterer, Great Performances, is partnering with various Miami area restaurants and food trucks with choices including sandwiches, sushi, Latin fare, BBQ and ample opportunities to kick back with a cocktail.
Sustainability: Expect to find an enhanced commitment to reducing single-serve plastics, which pollute our boating environment. Visit Conservation Village to learn about the Costa Sunglasses Kick Plastics program and the Captains for Clean Water initiative. Meet Chef Allen Susser who will conduct presentations about a variety of topics pertaining to seafood, the ocean and sustainability.
Tickets: Ticket prices vary by the day of attendance and range from $30 to $55. Children 12 and under are free with a paid adult admission.
The Miami International Boat Show has a nearly $900 million impact on the area and it's a spectacle for savvy sailors and newbie boaters alike, so pack comfortable shoes and lots of sunscreen and then enjoy the long weekend on, off and near the water.
Read Next: Boat Show Shopping Tips
---
You Might Also Like: