There's nothing like a boat outing: the sun on your face, a warm breeze, waves gently rocking the boat and…oh, wait. Did you forget to pack sunscreen? Once you're out on the water, the last thing you want to do is head back to shore for a forgotten item. Here's how to pack the perfect boat bag so that you can enjoy your boat day to the fullest!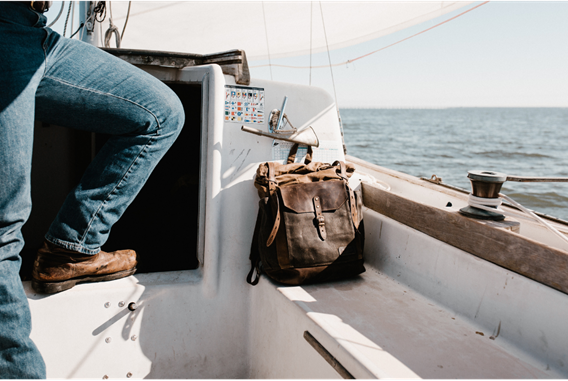 Waterproof Card Games
Break up sunbathing and swimming with a little fun and games stashed in your boat bag. Card games are great because they take up little space and everyone can enjoy them. Many classic card games offer waterproof editions or invest in a deck of plastic playing cards.
Solar Power Bank
While most phones can stay charged all day long, a portable charger is handy to have as a backup for peace of mind. Solar power banks are good options. Like solar chargers, solar power banks convert sunlight into electrical energy—the difference (and a benefit) is that solar power banks feature a built-in battery to store energy. So, once they're charged, they don't have to be exposed to the sun to power a device. 

Sun Protection
One thing is certain: sunburn is never fun. Sunscreen is a must! SPF 30 or higher is recommended—look for a brand that offers coverage against both UVA and UVB rays for the best protection. Sun protection can also come in the form of cover-ups, hats, and sunglasses. These items block the sun—and they make sitting outside on a sunny day way more comfortable and stylish.
Dry Bag for Electronics
Use a small dry bag for your smartphones and electronics to keep your gear dry while you're out on the water. It's also good to have a few extra water-resistant bags for wet swimsuits and towels.
Portable Bluetooth Speaker
Keep your group entertained with some music on the go! Portable speakers can connect to any smartphone with Bluetooth. Ideally, look for options that are waterproof, dustproof, and shockproof—bonus points for the ability to float on the water.
Use this list as a starting point. Pack gear you think will be most useful to you for the environment you'll be in—and enjoy the satisfaction of knowing you're prepared.
See you on the water!
Read Next: 8 Tips for Planning the Perfect Weekend Getaway on Your Boat