Cell phone coverage can be sketchy on the water, and you should never depend entirely on a phone for safety reasons. However, there are numerous boating apps that can make life better for boaters. And these days, just about everyone has a phone sitting at the helm and USB ports scattered throughout the boat.

In this post, we'll take a look at a few popular selections from five categories of boating apps:
Marine Navigation Apps
Fishing Apps
Apps for Sailing
Weather Apps
General Boating Apps
Marine Navigation Apps
1. KnowWake
Almost everyone has a go-to GPS and navigation app they like to use in the car—whether that's Google Maps or a crowdsourcing tool like Waze—and the same should be true for boaters. KnowWake delivers all that and more by creating a real-time community of boaters across North America, Canada, parts of the Caribbean, Australia, and New Zealand, covering coastal waterways and more than 350 inland lakes and rivers.

KnowWake provides its users an easy way to explore all the dockside and waterfront locations available by boat. Users will find everything from local restaurants, marinas, fuel docks, boat ramps, dive shops, inlets, dive sites, snorkel areas, and so much more.
Price: Yep, you're in luck—this one's free.
Price: Yep, you're in luck—this one's free.
2. iNavX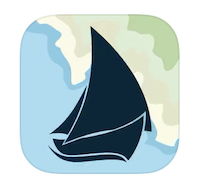 This app might be your pick if you're looking for an in-depth app that morphs your phone into a serious navigational tool. You can bring up charts on-screen, navigate more or less as you would on a chartplotter, display instruments like speed and bearing, and even pull in NMEA data via WiFi. 

iNavX also has interesting add-ons like tides and current data, GRIB weather forecasting, and an anchor alarm.

Price: The app goes for $4.99, and in-app purchases (like buying new charts) apply.
Click here to download.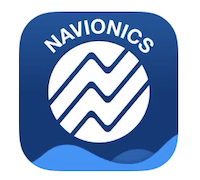 3. Navionics
If you want to turn your phone or tablet into a chartplotter, Navionics is tough to beat. It's the most popular boating app and has worldwide chartography coverage for oceans, bays, and lakes. You can use it to navigate with advanced features, including dock-to-dock auto-routing; you can see user community updates; you can synch it with your onboard chartplotter if it's WiFi-equipped, and more.
Price: The basic version comes free for two weeks; subscribing for a year costs $30.
Learn More: Marine Navigation: How to Navigate a Boat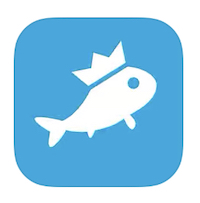 Fishing Apps
4. Fishbrain
Fishbrain claims to have millions of users, making it one of the largest social networking apps for anglers. Not only does it get you connected with other fishermen, but it also gets you updates on hotspots and what's biting, crunches real-world data to recommend top lures and baits, and includes fishing forecasts.
Price: The base version is free, but to enjoy all the app's features, you'll want to spring for $5.99 a month, which gets you the Premium version.
Click here to download.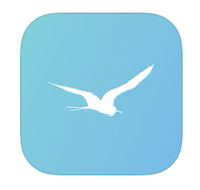 5. FishTrack
This app focuses on all the data you want to hunt down the deep-sea predators: sea surface temperatures, tides and currents info, bathymetry data, moon phase, and weather.
Price: The base version is free, but advanced features require in-app purchases.
6. Terrafin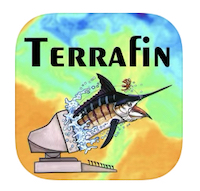 Terrafin is a sea surface temperature app with downloadable charts and the ability to set waypoints, get bearings and distances, and look at altimetry and chlorophyll charts. Its beauty is its simplicity, and rather than trying to be all things to all anglers, it just delivers SST/chlorophyll data and makes it easy to use. 
Price: The base app is free, but a yearly ($109) subscription is needed to get the most current and detailed info.
Apps for Sailing
7. ASA Sailing Challenge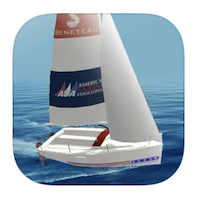 The American Sailing Association created the Sailing Challenge app to entertain and educate. It may be a game, but while playing it, you race a sailboat with factors like points of sail, apparent wind, sail trim, and tacking and jibing all coming into play. You can zoom out to see the big picture, rotate the "camera" looking at your sailboat, and race against the clock to learn sailing fundamentals.

Price: $3.99
8. Sailflow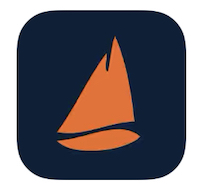 This app gets rave reviews from serious sailors who want to keep tabs on wind speeds in specific locations. It's a free app with in-app purchases and gives real-time "Nowcast" wind reports for top sailing areas and forecasts, plus on-site reports from sailors.
Weather Apps
9. Weather Channel
The Weather Channel app is the number one choice for all weather apps, and it's no wonder – it lets you tap into all the in-depth forecasts, weather maps, and live radar you'd find on the Weather Channel itself.

Price: It's free, but there are in-app purchases, too.
Click here to download.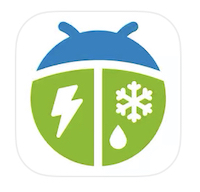 10. WeatherBug
Another top-rated weather app is WeatherBug. It also has a wide range of weather data, including forecasts, maps, and the like, and it has a few special perks that boaters will enjoy. Lightening alerts, severe weather alerts, and doppler radar are all in the mix.

Price: This one's free, with ads.
General Boating Apps
11. BoatUS
The free BoatUS app has general data like tides, weather forecasts, and weather alerts, but more importantly, it lets you call for towing assistance 24/7 with the swipe of a finger. And since your phone has GPS, the dispatchers immediately know your location and can get help on the way asap.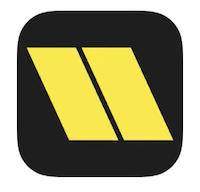 12. Sea Tow
This app delivers some basic tide and weather data, but the primary purpose is to be able to signal for a tow. Basically, it's like the BoatU.S. version, but for people who have towing insurance with Sea Tow instead.

Price: Yup, this one's free, too.
13. Waterway Guide Marinas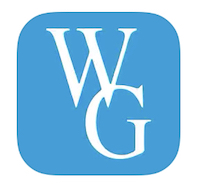 This is a relatively simple, free app which lists out listings for over 3700 marinas and boatyards nation-wide. You can use it to find which marinas have transient slips, what channel they monitor on the VHF, approach depth, and similar information that will come in handy when boating in unfamiliar areas.
Conclusion: Use Boating Apps to Enhance Your Day on the Water
We must stress that boaters should never rely 100 percent on a cell phone for tasks like navigation and communications at sea. However, every one of these apps can make your day of boating a better experience.
Editor's Note: This article was updated in November 2022.