Don't Rock the Boat: A Guide for Guests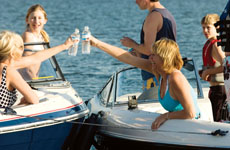 Going boating? With 83 million Americans hitting the water each year, many will be on the receiving end of an invitation to head out on the water aboard a friend or relative's boat. Make the most of the opportunity and show off your nautical know-how with our tips on boating etiquette:
Dress the part.
Nautical attire has been a classic fashion trend for decades for good reason - it's also functional. Boat shoes aren't just a summer bestseller - the soles are specifically designed to provide good grip on slick surfaces and avoid leaving marks on a boat's decks and interiors. In addition to the array of color and style choices, they're also water resistant and easy to slip in and out of, while protecting your feet.
Layering is key.
Swimsuits are a must for most boating activities, but bring extra layers to be prepared for whatever the day (or night) brings. When out on the water the temperature can vary drastically from sun up to sun down. Carry along towels, cover-ups, and long sleeved options to ensure you're comfortable and a hassle-free boat guest.

Learn the ropes...literally!
Don't be afraid to talk the talk and walk the walk while on deck. Get up to speed on your nautical lingo with our boating glossary, learn to tie a few knots and how to help the captain dock the boat. Simply ask the captain how you can best help to make a good first boating impression.
Chip in.
Bringing snacks and drinks might seem like a no-brainer, but you'll win over the boat owner with mess-free items that won't easily melt or stain. Dark-colored beverages or foods are a no-no. Go the extra mile and bring sunscreen for the group, create the perfect on-water playlist or pitch in for fuel.
Get boat savvy.
It's easy to know the difference between powerboats and sailboats. But, with pontoons to bass fishing boats to cabin cruisers, there are many different types of boats. Learn about the boat you'll be aboard, as well as other types for comparison - you'll be sure to impress your captain. Use our boat selector tool to research different boat types - you may even awaken your inner boater and find a boat that fits your budget and lifestyle!
Whether boating for the first time or a nautical pro, a little common sense and research will make the difference in your on-water experience. It will also ensure your first invite out on the water won't be your last.