You can boost your nautical know-how with your cell phone thanks to the best boating apps, and that goes for fishing, too—but only if you know which apps to choose to help you get a bend in those rods. Which are the 10 best fishing apps available today? Here are our top picks.
Top 10 Fishing Apps
ANGLR
FishAngler
Fishbrain
Fishidy
FishTrack
iAngler
Pro Angler
RiverFlows
Terrafin Troll
Master Depth Calculator
Explore All-Purpose Fishing Boats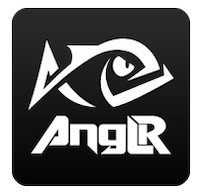 ANGLR
Like many fishing apps ANGLR helps you log your fishing info, which can be incredibly valuable over time. Unlike many, however, it's highly automated. Press start when you begin fishing, and it'll capture info like your GPS route, weather conditions including cloud cover and air temperature (from Dark Sky), and water conditions including temperature and flow (via USGS gauges). You can further develop the database by adding things like records and photos of your catch, and track the performance of specific lures or baits.
Price: Free, with paid upgrades.
Click here to download.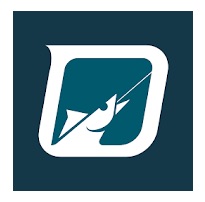 FishAngler
The FishAngler app has four basic functions: it provides mapping, weather forecasts with seven-day marine forecasts, logbook functionality with close to 50 detailed catch attributes you can use to record catches and conditions, and a virtual community that lets you connect with anglers around the globe. Price: Free.
FishBrain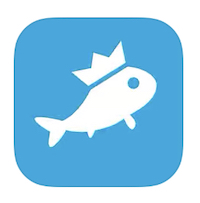 Fishbrain is one of the most popular fishing apps around, with the largest social network for fishermen and nine-million-plus users out on the water. Not only does it get you connected with other anglers, it has updates on hotspots and what's biting, a species recognition tool, and includes fishing forecasts. A Premium version unlocks additional hotspots, gets you crowdsourced bathymetric data, and crunches real world data to recommend top lures and baits.
Price: Free basic version, $5.99 a month for Premium.
Fishidy
Fishidy has a waterway database with over 20,000 freshwater and 180,000 saltwater bodies of water, matched up with catch-logging, weather and fishing forecasts, and the ability to follow other angler's activities on the water. The Premium version adds in over 27,000 marked hotspots, bathymetric mapping, and underwater structure identification. Items shown on-screen can be tapped to bring up detailed explanations of what lays beneath the water's surface.
Price: Free, $9.99 a month for Premium.
FishTrack
If you're on the hunt for deep-sea sportfish, FishTrack will be to your liking. This app includes sea surface temperature and chlorophyll charts, tide and current info, bathymetric data, moon phase, and weather predictions. And unlike many similar apps, you have the ability to save the imagery so once you're offshore and well beyond cell service, you can continue viewing the charts. The Premium version includes more current satellite imagery, enhanced nav abilities, and additional features.
Price: Free, $14.99 for Premium.
iAngler
The iAngler app is a sibling to iAngler Tournament, a popular platform for catch-photo-release tournaments. There's a good chance you'll end up using iAngler if you enjoy tournament fishing (and you can check it to locate nearby tournaments you may not have heard about), and the catch data that's collected is saved for scientific purposes. Knowing what was caught, when, and where can help with stock assessments, determining the effect of habitat restoration, and gaining a better scientific understanding of our fisheries. The iAngler app exists separate and apart from the tournament version for people to log catches and catch locations strictly for research and conservation purposes, when there's not a competition taking place.
Price: Free.
Pro Angler
The unique twist Pro Angler provides is that it actually has (Florida-based) professionals adding to the data pool. Local captains chime in with info on what's biting, when, and where. The app also has over 7,500 hotspots listed with tidal data, water and air temperature, and weather conditions. Another unusual feature is a listing of land-based features, such as bait and tackle shops, boat ramps, charter boats, and weigh stations. Pro Angler also claims to be the number-one rated fishing app on the App Store.
Price: Free with in-app purchases and ads; upgradable to Live Action Premium Unlimited for $9.99 a month.
RiverFlows
If you want a simple app that delivers exactly what its name promises, you'll like RiverFlows. It utilizes data fed by the USGS, NOAA, the US Army Corps of Engineers, the Colorado Department of Water Resources, and the California Data Exchange, to quickly and simply show lake and river water levels across the U.S. Water temperature data is also displayed, and you can see river flows in graph form or cubic feet per second.
Price: Free.
Terrafin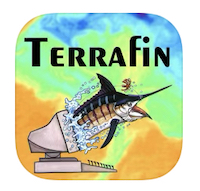 Terrafin is a sea surface temperature app with downloadable charts and the ability to set waypoints, get bearings and distances, and display altimetry and chlorophyll charts. This is another app that keeps things relatively simple and rather than trying to be all things to all anglers it just delivers easy to understand sea surface temperature and chlorophyll data to offshore anglers.
Price: Free with sample charts, $109 for a year of current charts updated up to three times daily.
Troll Master Depth Calculator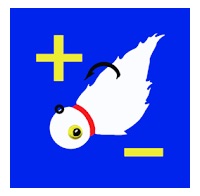 Whether you fish in lakes, rivers, or the deep blue ocean, if you like trolling you'll love the Troll Master Depth Calculator. This app tells you exactly how deep your lure is running, by taking multiple variables into account: line type and length, lure type, weight, speed, rod height, and more. The physics-based calculations have been verified with on-the-water depth gauge testing and new lures are constantly being added for more extensive coverage of specific popular lures, as well as general lure types.
Price: $9.99.
Will downloading all of these apps mean your next fishing trip is a guaranteed success? Of course not. But if you want to increase your chances of success each and every time you cast a line, these 10 best fishing apps will help.
Read Next: Best Boating Apps: Navigation, Fishing, Weather & More
---
You Might Also Like: