If you're looking to curl up on the couch with a bowl of popcorn and a good movie, look no further than these memorable tales of adventure, horror and comedy. Grab some candy and invite your whole crew over to learn, laugh and memorize a few lines that you may have already heard on the docks. In no particular order, here we go.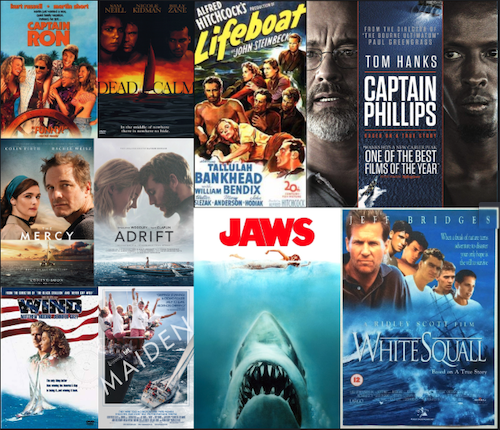 Top 10 Best Boat Movies to Binge-Watch
Captain Ron (1992)
Maiden (2019)
Adrift (2018)
The Mercy (2017)
White Squall (1996)
Wind (1992)
Dead Calm (1989)
Jaws (1975)
Captain Phillips (2013)
Lifeboat (1944)
Find a Boat for Your Next Adventure
Captain Ron
Mandatory watching for any sailor, Captain Ron with Kurt Russell is remarkably accurate from a technical standpoint except for one glaring piece of silliness as it relates to sailboats. See if you can spot it. Any sailor worth his/her salt has most of the key lines memorized and despite its goofiness, there are a few scenes in this film that will ring remarkably true for anyone who's spent time on an old boat.
Maiden
A fascinating 2019 documentary about Tracy Edwards and her all-woman crew in the 1989 Whitbread Round the World Race. You can't beat this true story for sheer grit and an important history lesson. There's a bit of humor as well if just in the great fashions and bad mustaches of the times.
Adrift
Loosely based on a true story from 1983, Adrift is the tale of a young couple on a yacht delivery. They become dismasted when they sail into the path of a hurricane and the rest is the story of the sheer will to survive. Shailene Woodley does an impressive acting job in this tale with a twist. Watch this one alone if you ever want your significant other to go distance cruising.
The Mercy
A fictionalized tale of the very real and very disturbed Donald Crowhurst, this 2017 film centers on the 1968 Golden Globe Race, the first singlehanded, non-stop circumnavigating competition. Colin Firth captures the misery of impending failure and the film puts the rigors of sailing in context as Crowhurst faces the open ocean and an uncertain future alone.
White Squall
Not exactly a chuckle fest, White Squall is based on a real tragedy from the 1960s. Jeff Bridges as the stalwart captain in charge of a training vessel and a bunch of wealthy newbie sailors relies on discipline to keep an orderly ship. When disaster strikes, it's an uncomfortable study of what it means to be a captain.
Wind
A mixed cast of real America's Cup racers and thespians like Mathew Modine and Jennifer Grey act their hearts out in this tale of competitive drama. The plot is thin, the dialogue is stilted and the acting is at times cringe-worthy, but the cinematography is phenomenal. You can't beat this movie for sheer beauty.
Dead Calm
More in the horror genre is Dead Calm with Nicole Kidman and Sam Neill cruising a remote stretch of the South Pacific when they come across the evil Billy Zane. This one's full of completely improbably scenarios, sailing inaccuracies and a young Kidman's bizarre perm, but it's a bit of twisted fun that will put the Academy Awards in perspective.
Jaws
Spielberg's major directorial debut couldn't be more iconic and quotes from Jaws can be entertaining at any happy hour. If you get a chance, watch the two-hour making of this film as well to appreciate the end product. Not everyone sees this movie as a comedy but if you watch closely, you'll see a bit of humor.
Captain Phillips
In 2009, the US-flagged container ship Maersk Alabama was taken over by Somali pirates. Tom Hanks convincingly plays the captain during this hostage drama that was made into an award-winning feature film in 2013. This is a portrayal of leadership during its most taught moments.
Lifeboat
Finally, a classic thriller from Alfred Hitchcock based on a John Steinbeck novel. After a German U-boat sinks a passenger ship, the survivors crowd into a lifeboat along with a German officer they pull from the water. You'll not find a more convincing study of group dynamics and human nature than this well-crafted 1944 award winner.
There are probably 50 other nautical films that are well worth watching, so start with these and you may soon become a seafaring movie buff.
Read Next: Boat Songs: The Ultimate Boating Playlist
---
You Might Also Like: