Best Apps for Fishing
This is a guest post by Steve Rosenberg
Any fisherman that has ever been skunked before will tell you that they'll do whatever it takes to have a better chance at reeling in the big one. Though it may run contrary to the idea of fishing to keep you phone nearby, if it can help a little, who are we to say no?
FindMeFish (iOS and Android) – Free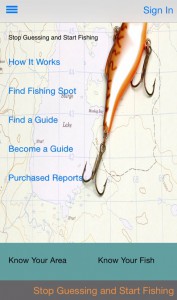 Hiring a professional fishing guide can cost hundreds of dollars a day. With FindMeFish, you get the experience of a fishing guide at a fraction of the cost. Guides upload their fishing tips, with GPS coordinates, and allow you to download them for a fee.
iSolunar Hunting & Fishing Times (iOS)— $4.99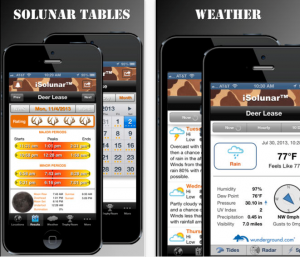 Calculating moon phases, weather and tides, along with sunrise and sunset times, iSolunar can deliver and easy-to-read guide to fish feeding and activity anywhere in the world. Working off your smartphone's GPS or with manual location entry, this app is particularly handy when you're striking out for unfamiliar waters. There's also a great Trophy Room feature that allows you to share your catch via Facebook or email.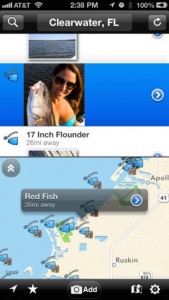 Lots of great functionality here, but the real treat is to be able to see (in real time) what other anglers are pulling in from their favorite spots around the world. You can also comment and ask questions as pictures roll in. Other highlights include state stocking schedules, fishing identification charts, and some engaging, category-specific forums that allow you to communicate privately with other users if needed.
My Fishing Advisor (Android) – Free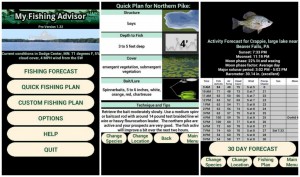 My Fishing Advisor is a freshwater fishing app for your phone. It analyzes the weather, sun and moon position, moon phase, and many other factors to determine where fish will be located, how active they will be, and what lures, baits and presentations will be most effective.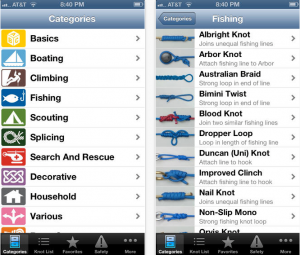 If you can think of a knot that's not included in this app it must either be extremely rare or it's since been replaced by a better cordage-tying technology. As it's nicely categorized by specific use, the fishing section is easy to find and chock full of dozens of go-to knots for anglers. Not only do you get an animated look at how to tie, a picture of the finished knot and the name, this app goes the extra mile to tell you exactly how it's used.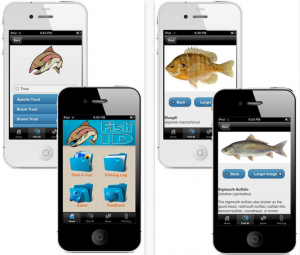 Have you ever pulled up a worthy opponent on the other end of your line after an exciting battle only to realize you have no idea what species you're looking at? Well, if you fish in freshwater, this app can help you get to the bottom of your mystery quickly and easily. Along with high-quality photos, you get detailed information on each fish including preferred habitats, temperature preferences, and average size and weight.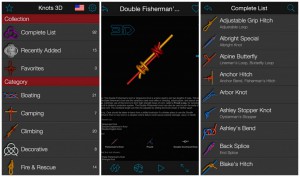 This app allows you to tie knots on your screen with just one finger. It offers over 90 knots to learn in several different languages and lets you rotate your view. Pick it up and start tying!