Boating with Kids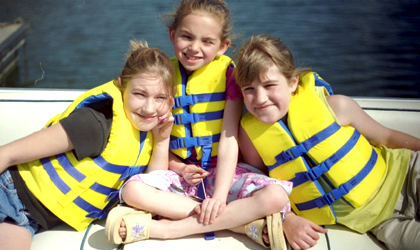 Boating is a great way to spend time with your children. There are many tasks that can be assigned to youngsters while out on the water to teach them responsibility and provide them with valuable life lessons. It's important to establish some boating safety rules and procedures that will help reduce the chance of trouble or injury during your excursion. Also, if youngsters are joining you, there are a few features to consider for your boat:
Consider a boat that has a cuddy cabin. Runabouts, bow riders and deck boats, even some center console fishing boats, are sometimes equipped with a small cuddy cabin to offer refuge for the kids if they need a nap, are getting too much sun.
Buy a good life jacket or life vest with a collar that turns a child face up in the water. It must have strong waist and crotch straps, a handle on the collar, and preferably be a bright yellow or orange color for good visibility.
Attach a plastic safety whistle to the life jacket and practice using it with the child.
Do you have what it takes to be a safe boater? Test your safe boating IQ with our boater safety quiz!
Category: