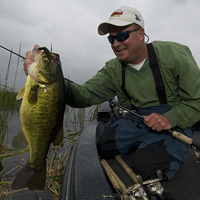 Sure, you know your home fishing hole like the back of your hand. You know what bait to use and when to use it. You know exactly where everyone dumps old Christmas trees in the lake to build up a perfect fish structure. You know where the hardcore, on-the-water-at-4 a.m. guys go before the rest of us even think about getting up and heading to the boat ramp. You know all that. What you may not know is where to find those honey-holes while you're on vacation. Here are some secrets to help you tap into that "local knowledge" and get you on the fish quickly.
Plan Ahead
Whether you're hitting the Gulf Coast, Flaming Gorge or Lake Texoma, you'll do yourself a favor by doing a little legwork before you hit the road. Spend some time on the Internet, and you'll be amazed at what you find. Many times the Chamber of Commerce or the local fishing guide association will have posted some great information to influence anglers like you to spend some time (and money) in their community. You may not find too many specifics, but you'll likely track down what's biting when and get a good idea about the proper bait and gear you'll need. Also, check out TakeMeFishing.org. You won't believe how much good information they have, plus you can download a free smartphone app that uses your location to find launch ramps, bait shops and just about anything else you'd need for a fishing trip.
Go Local
Once you've done your computer research, it's time to go old school and start "talking" to people. You know that bait shop you found? It's in their best interest to put you on some fish. You'll be back. And you'll buy fuel, snacks, ice, and, of course, more bait. And anything else you forgot. Just make sure you're listening to the guy behind the counter, and not the silver-tongued angler who's just hanging around the shop. He may have a vested interested in steering you the wrong way. Another great source for information is local guides. In fact, you can take some of the pressure off and get to the fish faster if you hire a guide for your first day. For a reasonable fee, they can get you to the secret fishing holes quickly, and you can spend more time hauling in your catch.
Finally…Be Respectful
If you're on vacation, chances are other anglers might have the same idea. As you spend time with the locals, show them the appropriate respect. You're a visitor. Be a good one. That means paying up for current fishing licenses for you and your family (as required) and knowing the keeper species and catch limits. Practicing a catch and release policy for any fish you don't plan on consuming during your trip is the responsible thing to do. And it provides a good lesson for the young anglers on your crew. And make sure that you pack out a little more than you packed in. Nothing can ruin a great fishing hole like out-of-towners who leave a body of water more polluted than they found it. Go beyond "No Littering" and pick up extra trash you see. Read more about how to be an ethical angler and respect our nation's waterways at Take Me Fishing's conservation guide.