Staying Close to Home This Summer?
It's summer vacation season and we anticipate this summer to be one of the busiest for boating, as more Americans are looking to spend time with family and friends close to home. To coincide with the
NMMA
's announcement of the top boating states, in terms of annual sales, Discover Boating has identified boating hot spots within each state where boating is a vital part of the local lifestyle and where you don't necessarily have to be a boat owner to find ways to get on the water.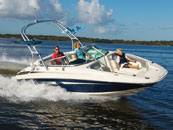 Below are the top 10 boating states in ranking order by total annual expenditures for new powerboats, motors, trailers and accessories in 2008, followed by Discover Boating's must-visit nautical hot spot within each state:
1) Florida ($1.5 billion)
Hot Spot: Sarasota
 2)  Texas ($1 billion)
Hot Spot: Corpus Christi
3) California ($594 million)
Hot Spot: Carlsbad
4) New York ($509 million)
Hot Spot: Lake George
5) North Carolina ($504 million)
Hot Spot: Morehead City
6)  Delaware ($443 million)
Hot Spot: Indian River
7)  Louisiana ($433 million)
Hot Spot: Caddo Lake
8) Washington ($402 million)
Hot Spot: Wynoochee Lake
9)  Minnesota ($382 million)
Hot Spot: Leech Lake
10) Michigan ($373 million)
Hot Spot: Harbor Springs
We want to hear about your favorite places to go boating! Click HERE to learn more about these boating destinations, vote for your own favorite destination and find more hot spots across the U.S. and beyond.
posted @ 7/7/2009 1:42 PM by Dana