Rendezvous aren't just for Big Boats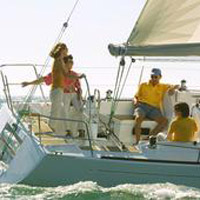 Rendezvous for large boats have long paved the way to fantastic weekends filled with fun, friendly boat owners ready to get to know each other or reunite. Offering a guaranteed good time and great camaraderie, these events let boaters discover new places, meet new friends and make lasting memories.
Groups from the Great Lakes states have been arranging similar rendezvous for small boat owners for a while, but now the trend is taking off. Whether organized by a dealer, a boat club or just a group of friends, small boat rendezvous are a great way for new boaters and/or long-time boaters who are trailering-challenged to meet other boaters and explore new venues.
In Michigan there are 3,121 miles of Great Lakes shoreline, and 11,037 inland lakes waiting to be discovered.   Many of these lakes are linked via water systems making a chain of lakes even more fun to navigate. And, trailer boat skippers have some real advantages when it comes to boating, as some of the best cruising, fishing and boating fun happens on inland waters. Just as each Great Lakes port is unique, each inland lake has its own character.   Have fun with your new adventure, but don't forget your charts and/or GPS, and/or your new friend who knows the lake like the back of his hand. 
Whether you are reluctant to trailer, or reluctant to boat new waters, or just don't like to boat without the company of friends, a rendezvous can be a great way to add to your boating enjoyment. Check with your local dealer for any planned small boat rendezvous and/or start one yourself. 
Content courtesy of Michigan Boating Industries Association.