The 49th Newport International Boat Show (NIBS) will take place September 12-15, 2019 on America's Cup Avenue and Commercial Wharf in Newport, Rhode Island. The beautiful harbor, known for its world-class boating and easy ocean access, draws thousands every year to this premier show that has become known for new boat and gear debuts.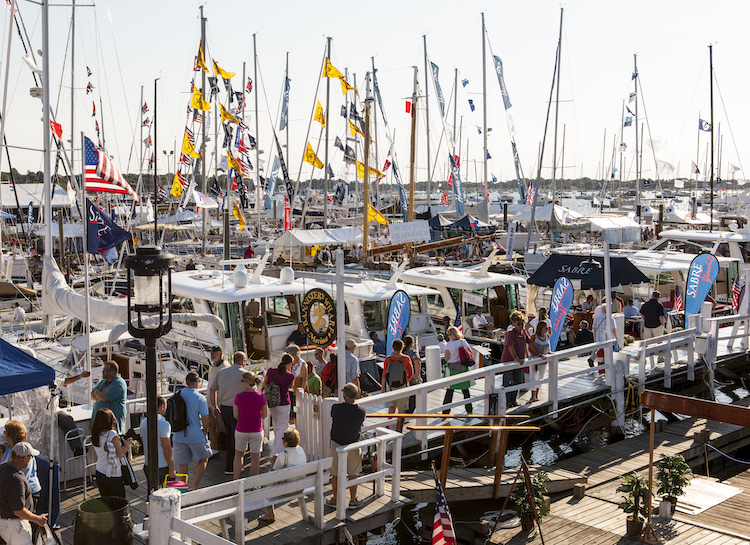 What to See
Over 600 exhibitors and 340 boats will welcome visitors this year. NIBS is one of the largest in-water shows in the country and kicks off the boat show season by showcasing power and sailboats, accessories, equipment, electronics, gear and more.
Things to Do
In addition to highlighting boats and equipment, the show offers numerous seminars and boating experiences in which to participate. Confident Captain will offer hands-on power and sailboat clinics on topics such as docking, the basics of sail trim, seamanship and safety. You'll take the helm with the help of a USCG-licensed captain and build skills without pressure. Also, the United States Power Squadron will offer classes on the use of marine electronics and anchoring techniques. Newport is for skill building as well as shopping so a multi-day visit is a must.
The town of Newport is steeped in nautical history and is a working waterfront as well. Tour the sprawling Fort Adams for a look at the city's past or visit the Newport Harbor Shipyard for a peak at a busy boatyard and a sizeable showcase of exceptional pre-owned vessels for sale.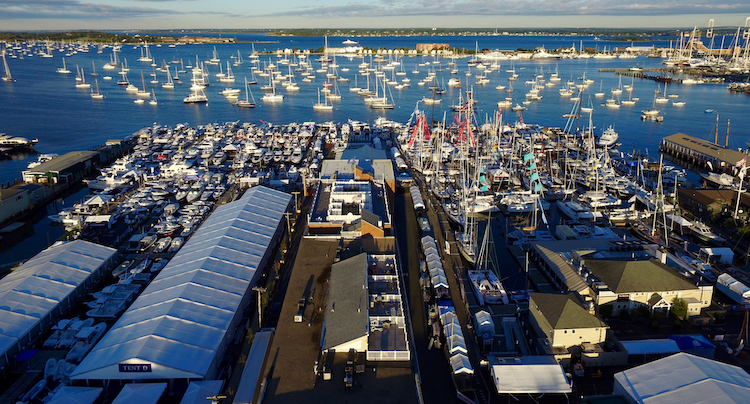 The Newport For New Products (NFNP) program helps highlight what's new and exciting for boaters. Judged by a team of marine industry experts, the program chooses winners in numerous categories including (new for this year) apparel and wearables. Also, attendees present on opening day will have the opportunity to cast a vote for their favorite boat as part of the People's Choice Award. One voter will be selected to receive a $250 American Express gift card. Winners will be announced Friday morning, September 13th and highlighted during the show.
Dozens of waterfront restaurants accommodate visitors including the Clarke Cooke House and the Black Pearl or, for impromptu eats, tuck into an iconic and ubiquitous lobster roll. If you reach your limit on all things nautical, you can also tour one of the renowned Newport Mansions that illuminate Newport's history as summer getaways for the uber-wealthy of decades ago.
A Charitable Cause
This year, NIBS has chosen the Leukemia & Lymphoma Society's (LLS) Leukemia Cup Regatta as their official charitable partner. The Leukemia Cup is a series of sailing events that raises awareness and funds for blood cancer research and is the long-time project of sailing legend Gary Jobson. The organization will be exhibiting and providing information on how to become involved.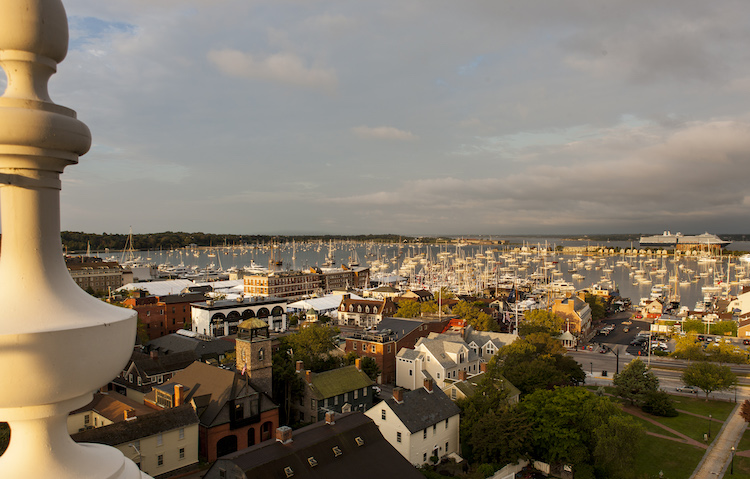 How to Visit
With the construction of the Hammets Wharf Hotel, the venue location has been modified. In-water displays will remain the same but the land portion will shift north. Tent B will now stretch from the Smoke House restaurant to the construction site while tents D and G will remain on the Newport Yachting Center grounds.
Parking will be available at Easton's Beach for $25 per vehicle. A pass can be purchased onsite or online in advance. From there, shuttle service to the show is complimentary and will run 8:00 am to 8:00 pm. Alternately, the Jamestown ferry will be running to and from Perrotti Park, which is walking distance to the show. General admission tickets are $35 on the first (preview) day or $17 thereafter.
Whether you're thinking of perfecting your crew communications skills, trying your hand on the tiller for the first time, picking up must-have cruising gear or you just want to spend time with other boaters before settling into winter, the Newport boat show is the place to be this September.
Visit the Official Newport International Boat Show Website
---
Looking for more on boat shows and buying tips? Read...