Gift Ideas for Boaters Part II
Boating Books, Magazines, DVDS & Apps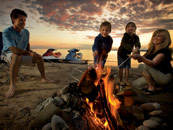 Give a boater a prop remover and they can take care of a project quickly and easily. Give a boater a book on how to work on their outboard or outdrive, and they'll be able to spend more days on the water enjoying their family and friends. In case you haven't heard, boaters love to work on their boat, talk about their boat and sometimes even be the best-informed boater at the dock. Fortunately, there are an wide variety of books, instructional DVDS, and other educational materials that truly enrich your boater's enjoyment of their favorite pastime. And what enthusiast doesn't love walking to the mailbox every month and seeing the latest issue of their favorite magazine? This is a great way to keep their spirits high even during the cooler months, when many parts of the country are experiencing cooler, non-boating weather. All these are sources for valuable, aspirational information to keep the fire burning for that next big project, watersports tips to share with the family, or even give them the confidence to plan a family vacation destination with the boat. Find all the details here to order your gifts.
Destinations
Even if you're fairly landlocked, it may surprise you to find out that vacations with a boat are within your reach. Of course if you've got a trailer, the answer might be a road trip to a new body of water, whether it's a chain of lakes you've always heard about, a cruise down river to a hidden port-of-call gem or even a longer adventure to the ocean or Intracoastal Waterway. And planning is half (well, maybe not QUITE half) the fun. Find the perfect waterside Bed & Breakfast, a state park you've always wanted to visit or even a family friendly waterfront amusement park that will delight the kids. Adventure is part of the allure of boating, so remember not to limit yourself to your home lake you know like the back of your hand. Get the whole gang involved in choosing the location, learning new skills you may need along the way, and getting all the gear squared away for your journey. Your gift could include a stop at someplace your recipient has always talked about like the river that holds the world record for brown trout. Let your imagination run wild...but you COULD start with our boating destinations guide.
Who says boaters are hard to shop for? With some creative thinking and planning (and a little help from Discover Boating, this could be the year the boater on your list talks about for years to come.
<< Page 1 >>