Float Plan App for iPhone
Published on Mar 18, 2010
When we were little and headed outside to play, there was always one simple rule we had to follow:  Tell Mom where you were going and what time you planned to be home.  When we got cars, that rule became even more important.  And there's a reason for it; the simple act of sharing your plans can save your life in an emergency.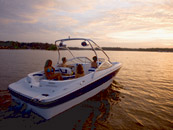 It's simple.  Let someone know where you're going, and when you'll be back.  The basic courtesy of sharing your plans can provide your loved ones with piece of mind.  If you're a pilot, it's a flight plan.   For us boaters, it's called a float plan.

Filing a float plan should be one of those things every boater does every time he or she heads out onto the water. Unfortunately, it's one of those things that's often overlooked or neglected.   The question is, why?  There is no easy answer.  Some boaters are just careless.  Most of us however, are just lazy.   We know a float plan is important, but the traditional float plan is a two-page document that we need to fill out by hand and leave with someone. As if we don't have enough paperwork in our lives!   If only there was a more efficient method…

Good news – there is!  Float Plan: Essential Tool For Boaters is a simple, free app for your iPhone or iPod Touch that allows you to store and save your vital boat information. Before you leave the dock, you simply open the app and choose "file float plan."  Next, just enter your departure location, time of departure and expected return time. Then press file. The application will automatically send your information via e-mail to whomever you have set up as your emergency contact. 

This e-mail includes all of your boating information, including a map link to Google maps, which will show your exact departure location.  Once you return, you simply press  "close float plan," and the app sends another e-mail saying you have returned safely.  The whole filing process takes less than thirty seconds —and could save your life.

One important note is that the Float Plan also includes a field for your MMSI number. This number allows the United States Coast Guard to locate your boat in case of an emergency.  For more information on MMSI numbers, go to http://boatus.com/mmsi or watch the video at http://www.youtube.com/watch?v=9IcBezzgDW4.

Whether you use the traditional paper float plan form, the new Float Plan app, or a simple phone call or e-mail, it's important to always let someone know where you're going and when you expect to be back.  It's not only a great safe boating practice, it's also a great way to let your loved ones know you care.

For more information on float plans, go to http://www.FloatPlanCentral.org/.

By Robin Herriff and Rusty Gardner
Shared with Permission by Florida by Water.