Best iPhone Weather Apps for Boating
This is a guest post by Steve Rosenberg.
If you're a boater, you know that sometimes your day on the water can revolve completely around the weather and it can be more than just a matter of inconvenience and a few wet towels. Keeping tabs on the weather can help you avoid some of the rough stuff and get you and your crew back to the marina safely. Why not take advantage of some incredible technology available on your smartphone? Below are some handy iPhone apps available to help you stay ahead of the weather while making the most of every boating day.
NOAA SuperRes Radar HD — $2.99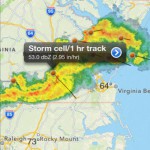 You might as well go straight to the source if you're looking for on-the-spot, up-to-date weather maps. Since the National Oceanic and Atmospheric Administration (NOAA) spends all day focused on the oceans and the atmosphere, you can bet you're getting a spin-free look at what's really going on. With a super-high-resolution display, this app simply gives you much more real-time detail than any other option.
Boat Weather  — FREE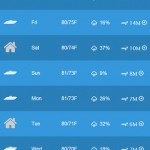 This app is what you use if you're looking for a straightforward and simple "go or no go" as you're about to head to the water based on a range of weather parameters you've previously set. After all, 2-foot swells may be too much for some, while others may not want to bother if it's too hot. With refreshingly easy to understand icons, you see either a house (meaning stay home) or a boat if everything is looking good.
USA Tides  — FREE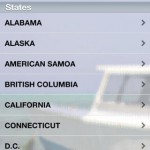 There's something to be said for apps that do one thing, but do it exceptionally well. USA Tides is just what you think it is. You get a satellite-generated map showing the actual location of the individual tide station from which data is being acquired. Then it uses your smartphone's GPS to verify you're getting the most accurate information. You can also set favorites and get predictive tide graphs, so you can get out and get back when conditions are most favorable.
Skipper — FREE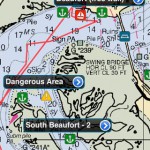 Yes, NOAA marine charts are available at no cost from lots of different apps, but Skipper adds a clean interface and combines relevant information in an easy-to-understand layout. You also get the ability to sync what you're viewing, where you've been and what you're planning with any other device because everything's backed up to the cloud. It's also great to be able to save battery life by viewing charts offline until you need to connect.
Intellicast – FREE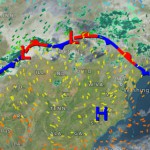 Intellicast has a speedy interface and uses the NOWrad HD radar. It has a lot of information packed into it, including wind direction arrows, which can be helpful in avoiding severe weather when on the water. Of all the apps on this list, this one may have the most features, including storm tracking and earthquake plotting.
There are a number of multi-purpose weather apps available but the ones made specifically with a boater in mind is always best. Choose your app based on how many features you need to feel comfortable and be safe out there!