Before you Buy a Boat
Visit a Boat Show
Visit a local boat show. Take a look at all available options and board as many boats as you can. Discuss your wants and needs with dealers and experts at the boat show; they will answer any questions you may have about specific boat types and help you choose the one that will fit your needs and desires. For a list of boat and sport shows in your area, please visit our Boat Show Calendar
Visit a Dealer
If you're in the market for a boat, boat dealers are a great resource. Purchasing a boat from a dealer offers a number of advantages, including:
• access to multiple finance sources and/or special manufacturer and dealer finance programs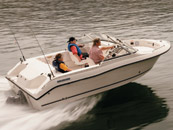 • year-round service departments
• extended warranty programs
• manufacturer and dealer incentive programs
We also recommend buying from Marine Industry Five Star Certified dealers. Learn more about certified dealers in you area
Try Before You Buy
There are many ways to try boating. Learn more about trying before buying options that will best fit your needs.