Sinking Boat Insurance Myths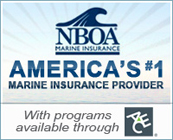 Whether it is the Loch Ness Monster, a 30-foot Great White hungrily searching for surfers, chests of buried treasure, or a giant octopus, our waters are steeped in myth. However, most people today do not believe in these tall tales. So why do most boaters believe boat insurance covers them wherever they go?
Here are a few common boat insurance myths:
The Florida Hurricane Myth
Myth: Everyone pays more for boat insurance due to the destructive hurricanes of a few years ago.
Reality: Even though most boaters believe this to be true, it's not entirely accurate. Boat insurers generally price policies based on claims in each state. The more hurricanes in the state, the more losses in that state, which results in higher priced policies (sorry Florida). On a more positive note, the entire national boating community is not affected. For example, Ohio customers won't pay more for boat insurance because of hurricanes in Florida.
The Global Yachtsman Myth 
Myth: Boat insurance covers me wherever I go boating.
Reality: Sorry Magellan, the reality is your navigational limit depends on your insurer. Some insurers may limit coverage to 100 nautical miles of your home port, while others have strict limits based on regions of the country. It is best to check with your insurance carrier so you're clear where you can (and cannot) navigate. NBOA can provide coverage virtually anywhere you decide to boat in the continental U.S., as well as the Bahamas and other regions.
The Multi-Policy Myth
Myth: I'll get a better boat insurance rate if I buy from the same company that insures my car or home.
Reality: Although some companies do offer multi-policy discounts, buying more than one product from the same insurance company doesn't mean you get the best rate, or the best coverage. The best way to ensure you're getting the best rate is by shopping around and combining specialized policies from different companies. Furthermore, dealing an agent who specializes in home or auto insurance may mean missing out on special marine coverage options and discounts. By using a specialized agent, you'll receive better coverage— based on your specific nautical needs needs—and save money doing so as well.
Content shared with permission, courtesy of National Boat Owners Association.