Gathering with loved ones over delicious food is the spice of life, especially when those gatherings are on the water!  There is no reason food on a boat can't be just as amazing as what you might serve when entertaining guests at home. The spread doesn't have to be complicated but with a little preparation you can turn the ordinary into extraordinary. Even on a boat presentation is key. Why serve fruit in a plastic bag when you can present the season's freshest options on a skewer? The perfect boat snacks are yummy, easy to eat and require little cleanup.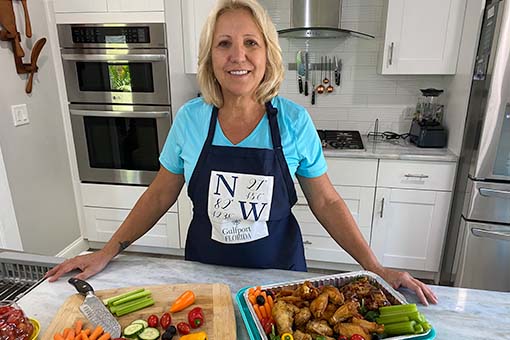 Check out our favorites below:  
You can never go wrong with a beautiful charcuterie plate packed with hard cheeses, nuts, cured meats, dried fruits and dates. It's quick and easy, and generally you can use what you have on hand, which makes it perfect for an impromptu sunset cruise. The platter should be covered, easy to transport and fit in a cooler.
Skewers ought to be your new best friend in the galley – a crowd pleaser for both kids and adults! It's a fantastic way to offer variety without involving a jumble of containers, plates, and utensils.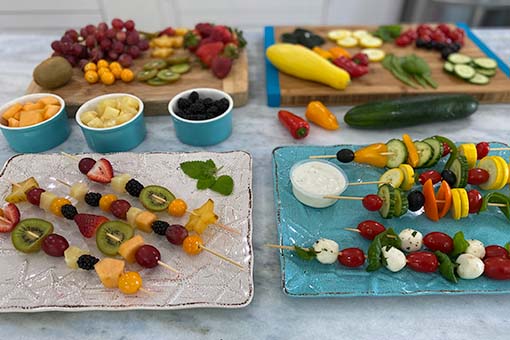 ​Fruit Skewers—Stack seasonal fruits and include something exotic in the mix like golden gooseberries, kiwi, or starfruit to make it fancy.
Caprese skewers—Cherry tomatoes, mozzarella balls and fresh basil leaf drizzled with balsamic and coarse sea salt. 
Veggie tray—Arrange veggies such as broccoli, carrots, cauliflower, peppers, and zucchini on a plate and include ranch dressing for dipping. 
Another tasty treat is plain chicken wings served with veggies and ranch or blue cheese dipping sauce. To avoid stains on the boat, do not coat the wings in red or sticky sauces. 
Wraps of any kind are easy to serve and a great snack when you are under way. Try a lettuce wrap with walnut, raisin, and chicken salad. 
Tip: Use disposable foil tins. They are easy to stack, keep food cool, and cleanup is a snap. 
Bon appetite! 
#SeeYouOutHere,
Captain Jana and Cindy