Lettering/Numbers
Depending on the state in which you live, most boats are required to have a state registration decal, as well as registration letters and numbers prominently displayed on either side of the bow (front of the boat).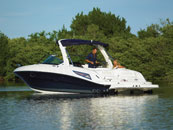 Registration numbers and letters must be at least 3" tall, and applied on both sides of the front of the boat on a contrasting background. For instance, white numbers/letters on a white boat aren't acceptable—you've got to be able to read the letters and numbers from a distance.
Naming your boat is a long-time maritime custom. Ships typically have their names on either side of the bow (in lieu of/in addition to registration numbers), as well as across the transom (back of the boat), while most pleasure boats' names are found only on their transoms. Occasionally, you'll see a boat sporting its name all the way down both sides of the hull—the choice is up to you.
When it comes to expressing your personal style, your options are limited only by your creativity. A mind-boggling variety of computer-generated graphics are available from sign shops, marine stores and on-line, but if you don't see what you want, you can always have one of a kind, custom decals made just for your boat.
Of course, you can enlist the services of a local artist who specializes in hand lettering, if you prefer a more traditional approach.