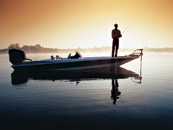 Autumn in Michigan offers warm days, quiet lakes, and unbelievably beautiful displays of leaves changing colors. But despite this, some Michigan boaters insist on taking their boats out of the water after Labor Day. Others take advantage of boating into Michigan's autumn season and get to experience some extraordinary sights along with the warm sun and crisp air.
Wet suits and dry suits can help keep skiers and wake boarders going as the water cools, making it easy to enjoy water like glass on a lake empty of boaters.
Fisherman can add a layer or two in the early a.m. and simply peel it off as the morning sun begins to shine brighter.
And cruisers can top their summer linens with a cozy down comforter to create a warm sleeping environment and a reason to snuggle up.
Snowfall should mark the end of boating, but there are die-hard boaters that have been known to take an annual winter boat cruise: and they swear by the experience. Other boaters simply refuse to put their boats away, set up bubblers to keep the water from freezing around the boat, and leave their boat in the water for winter visits and/or for those who live aboard.
Michigan has nearly one-million registered boats on file – quite impressive for a four season state. Maximize your boating season beyond the traditional Memorial Day and Labor Day holidays: Plan today to get a jump on early spring boating and, if your boat isn't out yet, consider a few more weeks to enjoy Michigan's fall weather still to come. If you can hang out until after the first frost to experience a week or two of Indian Summer – all the better. 
 
Content shared with permission of MBIA.