Inside or Outside Storage
Hey there! Captain Chris here! I was walking the docks this past weekend listening to all the football games on the radio and talking to all the boaters as they were enjoying the sunny fall day and getting their boat ready for winter.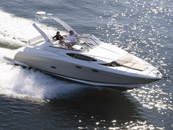 One of the conversations that came up was whether a fellow boater should store his boat inside with heated storage or outside under shrink wrap. Several people weighed in for both sides, but now I would like to hear from you. Which do you think is better, inside or out?
A few of the benefits that were brought up are:
Inside
·        Accessibility to your boat for repairs throughout the winter
·        Extra protection from the elements (Example: If you live in higher altitudes or in an area that is ice prone, inside is best)
·        The boat is completely protected from the elements with could potentially cause less damage to your boat in the long run
Outside
·        Less expensive than inside storage
·        Access in the spring for self maintenance
Whether you choose inside or outside storage, make sure that you consider all of your options. Look at what the facility and what it has to offer, such 24 hour security or a paved lot. You need to find a facility that you are comfortable and that meets your needs. Good luck!