How a personal watercraft can get you into the boating lifestyle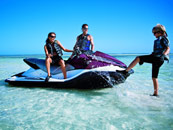 Wondering how you can take advantage of local waterways and be one of the people out there enjoying the boating lifestyle? One of the easiest and most fun ways to enjoy everything the water has to offer is by taking a ride on a personal watercraft (PWC). Personal watercraft are no longer the loud and solitary vessels of the past.
The PWCs of today are 75 percent quieter, include safety features, are more maneuverable, and designed to accommodate up to three passengers. These more advanced models make PWC well suited for a number of different activities aside from just zipping around the water. And, with three-seaters being the most popular model, more and more families are discovering fun on the water on PWCs.
"Recent developments have made personal watercraft safer and easier to use and enjoy," says David Dickerson, executive director of the Personal Watercraft Industry Association. "No matter where you live, you'll find that getting on a PWC is more accessible than ever. Whether you are purchasing or renting, a PWC is an ideal way to explore local waterways and spend a day outdoors with family and friends." Here are a few ways to enjoy a PWC that you may not have considered:
Be a nautical explorer. Since they can be quieter and smaller than most boats, exploring small areas like inlets or bays are more manageable on a PWC. You might find it is easier to watch wildlife or find hidden areas since they can navigate through more shallow waters.
Teach the kids to water ski. Trying to water ski for the first time can be intimidating, especially for kids who might find the wake of a boat too much for their first time. Teaching a child to water ski using a PWC may make the experience more effortless since the wake is smaller, parents are closer to the skier, and the ride is smoother.
Visit www.boatshows.com to find a boat show in your area this fall and winter where you can check out the latest personal watercraft.