Guide To PWC Environmental Awareness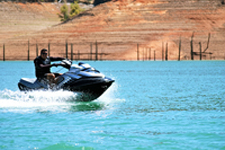 As PWC owners & riders, you may think our impact on the environment doesn't really matter. After all, it's a smaller boat, without a propeller, that gets better gas mileage. But every little bit does add up, and by following a few basic guidelines (and encouraging our fellow riders to do the same) we can make a difference and still have a great time on the water.
Keep It Clean
When it's possible, try to refuel on land to reduce the chances of spilling oil or gas into the water. Spills can harm the water's delicate microorganisms as well as the animals that feed on them, potentially upsetting the entire food chain.
Fill your gas tank slowly to prevent splash-ups and make sure you keep an absorbent pad handy to catch any overflows. Perform any checking or cleaning of your engine well away from shorelines.
Always wash your PWC thoroughly after each use to prevent the spread of exotic plants and nuisance marine life to other bodies of water. Since "exotics" have no natural enemies or "checks," they can quickly overwhelm native species and severely damage animal and plant diversity.
Keep It Deep
Although PWC don't have exposed propellers to potentially chop up underwater vegetation, you can still stir up sediment and disturb delicate ecosystems in shallow water. Plus, weeds, grasses, sediment and trash can wreak havoc on your boat's jet pump and impeller, ultimately causing damage to your engine.
When you do need to cross shallow water, make sure you maintain idle speed.
Stay in marked channels or the deeper parts of the waterway to ensure the least amount of contact with wildlife and marine vegetation.
Keep It Respectful
Riding too close to the shoreline, docks and boathouses, and swimming areas is not only rude, but it feeds any negative perceptions of PWC riders. Help keep access available to everyone by operating your boat in a courteous manner.
Steer clear of any and all wildlife. Anything that will cause an animal to deviate from its normal behavior such as interrupting feedings, nesting or resting — and especially chasing — is just wrong and may be illegal in your area.
Larger marine mammals can be seriously injured by boats traveling at high-speeds. Be aware of areas where you may have manatee, whales, sea otters, sea lions or porpoises. Make sure you ride at a controlled speed so you can see what's ahead of you. And if you do accidentally hit an animal, report immediately to local boating law enforcement or wildlife service so a rescue operation can begin.
Keep Wakes Away From Shore
One of the biggest issues with creating a wake near the shoreline is erosion. Whether it's an environmentally sensitive marsh area or a homeowner's beach area, you can do more damage than you might think. Follow all posted wake, operation and access restrictions to minimize your impact.
Avoid docking or beaching near reeds, grasses and mangroves. Those plants are essential to the local ecosystem because they help control erosion, they provide a nursery ground for turtles, birds, alligators, crustaceans, mollusks and small fish.
Visit our activity page for more information on WaterSports.