Great Lakes Marinas: Michigan's Harbor Program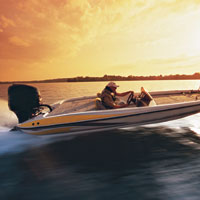 Boating on the Great Lakes is an experience that, once enjoyed, will never be forgotten. These lakes are designed by nature to charm and capture the spirit of boaters. As residents of Michigan, we are proud to be known as the "Great Lakes State" and nearly 4 million of our residents enjoy boating each year on these Great Lakes and the inland lakes which they surround.
Michigan boaters are served by scores of privately owned marinas and off-water dealers. These businesses serve the boating public in many different ways. Some sell and service marine products while others just service them. Some are on the water and others are off the water and either can provide both sales and services. In all, Michigan has approximately 460 marine dealers and 1,046 marinas, which include 626 on the Great Lakes.
In addition to the privately owned marinas on the Great Lakes, the State of Michigan maintains 80 harbors of refuge for boaters throughout the Great Lakes.
Michigan's Harbor program was designed to help boaters enjoy the Great Lakes safely and to provide the kind of facilities boaters need, in places they will need them. The program started in 1947, the same year the Michigan Waterways Commission was developed. The Waterways Commission has slowly developed a string of protective harbors for the convenience of Great Lakes boaters. Each harbor is no more than 15 shoreline miles from the next. To see how extensive this network of harbors is and to see actual locations, boaters can go to
www.michigandnr.com
. 
While the harbor program was designed for boater safety and refuge from inclement weather or other emergencies, these harbors are also located along the stunning freshwater coast of Michigan's upper and lower peninsulas, and can serve as fun destination sites between the public marinas that share the same stretch.
Most harbors of refuge are small, but transient dock space is available at each. Reservations can be made at 34 of these facilities by calling 800-447-2757 (1-800-44PARKS) between 8 a.m. and 8 p.m., Monday through Friday, and from 9 a.m. to 5 p.m. on Saturday and Sunday. Most harbors have VHF-FM Radio communication available at the public dock. Many offer fuel, food, and other amenities.
Content courtesy of Michigan Boating Industries Association.