Clothing (Foul Weather Gear)
Like any other recreational activity, boating has its own wardrobe requirements, but not to worry—any day on the water is considered "casual".
Foul Attitude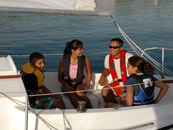 Bright summer days and high temps call for a minimum of specialty clothing; shorts and a tee-shirt over your bathing suit is usually appropriate—add a ball cap to keep the sun out of your eyes.
However, even the nicest of afternoons can bring a shower or worse yet, a storm—complete with wind, waves and driving rain—to turn a leisurely cruise into a full-fledged adventure.
Foul weather gear is one of those salty-sounding phrases that brings up images of a New England fisherman in his yellow rain slicker, squinting into the blinding spray, right? Well, that's the way it used to be, but we're pleased to report that staying warm and dry on a boat has come a long way since then.
Degrees of Dry
Before you run down to the local department store to pick up a raincoat, you really ought to know that boating rainwear/foul weather gear is divided up into some broad categories, so you can get rain gear suited to your particular style of boating.
PVC Raingear
Most of us don't sit perfectly still on board a boat, even if it's raining. Physical activity generates body heat and water vapor (in the form of perspiration). This isn't an issue when it's nice out—the sweat evaporates into the atmosphere.
Wrap a sheet of plastic around your sweaty self in a rainstorm and soon you're gonna be really miserable—hot and sticky if it's warm out, or chilled to the bone if the weather's the least bit cold.
PVC rainsuits are just that—pieces of plastic fashioned into outerwear that'll keep you dry enough, but usually aren't the best for all-day use. Inexpensive and easy to clean, PVC foul weather gear is great to keep on board "just in case" it rains.
Breathable Fabrics
So, how do we address the situation of staying dry, both inside and outside the rain gear? That's where breathable fabrics come in to the picture.
Breathable fabrics take a couple of different approaches to protecting you from the elements while permitting perspiration a way to escape from inside the garment.
One of, if not the most, efficient types of foul weather gear is made of a material with microscopic holes in it (called microporous fabric). Multiple layers of this microporous fabric are laminated together; the outside is coated with a water-resistant substance (often silicone) to keep the liquid water (rain) out. The inner fabric's microscopic pores allow water vapor (perspiration) to pass through to the outer layer, thus keeping you more comfortable.
The other "breathable" foul weather gear uses a hydrophilic (having an affinity for water) substance on the side exposed to the rain. This coating doesn't have any tiny pores to vent inner water vapor out. Instead, moisture from the inside of the garment moves through the molecular structure of the outer coating, and on to wherever it is that sweat goes. Not quite as good of a method as microporous fabrics, but still better than PVC plastic.
Foul weather gear picks up where the sunshine leaves off, so make sure you equip yourself for your style of boating.
"Expect the best, but prepare for the worst."