Boat Owners Association: BoatUS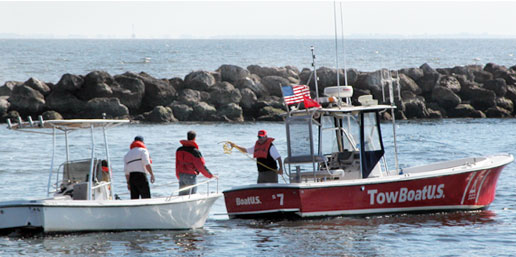 BoatUS - Boat Owners Association of The United States - is the oldest and largest association of boaters, for boaters. For over four decades BoatUS has focused exclusively on providing the highest quality boating services, significant savings and a strong voice fighting to protect boaters from unfair taxes and burdensome regulations that take the fun out of boating.
BoatUS represents over half a million Members. The dedicated BoatUS staff of boating experts has created the largest towing fleet from coast to coast, an extensive network of on the road towers for trailer boaters, an insurance policy with coverage designed specifically for recreational boaters, a network of marinas providing substantial discounts to Members across the country, and so much more. They have BoatUS people standing by 24/7 to help you when the unexpected happens. As a BoatUS Member you are part of a family committed to boating safety, education, and the preservation of waterways for generations to come.
Click here to get 10% off on the water towing service levels, or, call 800-395-2628 for more information on the many benefits of having a membership with BoatUS.
Additional member benefits include:
On-the-Water Towing Services
On-the-Road Towing Service
Low-Cost Boat Insurance
Subscription to BoatUS Magazine
Professional Captains Locator Service
EPIRB Rental Program
Boat Recall Alert Registry
Theft Protection
Life Jacket Loaner Program
Boating-Related Savings
Travel Savings
and so much more! For a complete list of member benefits, please visit BoatUS.com.