Antennas: Getting Reception on Boats
No matter what kind of transmitter or receiver you have on your boat, each device requires its own unique antenna.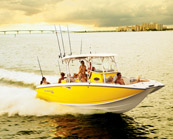 AM/FM Radio
In order for your AM/FM radio to pick up your favorite stations, it needs a special radio antenna. This antenna is usually installed on the outside of the boat (not in a cabin), and can vary from an automotive whip style antenna to a nearly invisible antenna that you stick on the windshield or on a window.
Television
Your on-board television won't work without an antenna designed for use on boats. Most marine TV antennas look like a flat disc on a small pedestal, and are OK for tuning in to shore-based stations.
If you venture offshore, you'll need a miniature satellite dish to access images beamed from communications satellites. Two of the current major players in this arena are DIRECTV® and the Dish Network®, so you'll also require their proprietary black boxes to unscramble the signals you receive on your mini-dish antenna.
VHF Radio
VHF radio is the communication medium of choice for boaters. A VHF radio enables you to call the Coast Guard if you need help, as well as chat with other boaters to find out where the fish are biting.
The key to getting the most out of your VHF radio is to mount the antenna as high as you can above your boat. On a powerboat, this could mean placing a tall antenna on a radar arch, hardtop, or on the flybridge. Sailboats often install their VHF antennas at the very top of the mast for maximum sending and receiving ability.