Boating Lifestyle
There is so much to love, and learn, about boating. That's why we created this library of articles, videos and blog posts to help you throughout your adventures.
Houseboat Vacation Destinations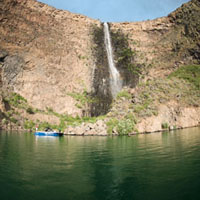 For the ultimate boating vacation, nothing beats spending time on a houseboat with your family and friends. Here are some popular houseboating destinations, along with listings of vacation rentals.
Lake Billy Chinook, Oregon
A canyon lake, deep and narrow, but not so narrow to deter a houseboat, Lake Billy Chinook flows between the deep carved banks of the Crooked, Deschutes, and Metolius Rivers. With it's unique geography, boating between the dramatic cliffs of Lake Billy Chinook is unlike any other boating experience you'll ever have anywhere else.

Lake Billy Chinook Houseboat Rentals
Crane Lake, Minnesota
Located in Northern Minnesota and interconnected with Voyageurs National Park, Crane Lake offers one-quarter-million acres of waterways in one of the largest chains of inland lakes in North America.

Voyagaire Houseboat Rentals
Lake Cumberland, Kentucky
Some would say Lake Cumberland is THE Houseboat Capital of the World. It's the largest lake by volume in the US east of the Mississippi River, and boasts 1,200 miles of shoreline on three state parks and the Daniel Boone National Forest.

Lake Cumberland Houseboat Rentals
Lake Havasu (Arizona, California)
Situated on the California and Arizona border, Lake Havasu is popular with both Spring Breakers and families alike. It is a true houseboaters' paradise, with over 60 miles of navigable waterways set against the breathtaking backdrop of the Mohave Mountains, plus easy access to the nightlife of Havasu City.

Lake Havasu Houseboat Rentals
Lake Mead (Arizona, Nevada)
Located near California on the Arizona and Nevada border, Lake Mead is less than one hour's drive from Las Vegas (but a world away in every other sense). It is the largest man-made lake and reservoir in the United States. Lake Mead offers sparkling blue waters, stunning red rock canyons and cliffs on over 550 miles of shoreline.

Lake Mead Houseboat Rentals
Lake of the Ozarks, Missouri
Located in the heart of Missouri, Lake of the Ozarks is yet another houseboaters' paradise. Considered to be the "Midwest Coast", it is the largest man-made, non-flood control lake in the United States, with over 1,150 miles of shoreline.

Lake of the Ozarks Houseboat Rentals
Lake Powell (Utah, Arizona)
On the Colorado River, mostly in Utah and partially in Arizona, Lake Powell is the second largest man-made reservoir in the United States, with over 1,900 of shoreline.

Lake Powell Houseboat Rentals
Raystown Lake, Pennsylvania
With 118 miles of forested shoreline, 30 miles of navigable waters, plus over 21,000 acres of largely unspoiled land, Raystown Lake is a popular vacation destination for Northeasterners.

Raystown Lake Houseboat Rentals
Lake Roosevelt, Washington State
Over 630 miles of shoreline and often about a mile wide, houseboating on Lake Roosevelt can have the feel of river navigation. Lake Roosevelt's shores are tribal territory and a national recreation area, so vacationers can freely pull up to the sandy cove of their choice, and there are plenty to choose from.

Lake Roosevelt Houseboat Rentals
Lake Shasta, California
Just like fans of Lake Cumberland, Lake Shasta enthusiasts also claim it to be the "Houseboating Capital of the World". With over 370 miles of forested, mountainous shoreline, Lake Shasta offers warm, clear and calm waters, perfect for swimming, waterskiing, wakeboarding and tubing.

Lake Shasta Houseboat Rentals
Lake of the Woods (Minnesota, Ontario, Manitoba)
Lake of the Woods, a giant in comparison to other houseboating lakes, boasts over 65,000 miles of shoreline and over 14,500 islands. These stunning international waters border Minnesota, Manitoba and Ontario. Take a houseboat out on Lake of the Woods, and you're not likely to see anyone else for days, although you'll see plenty of wildlife. For those who truly like to "get away from it all", Lake of the Woods is an ideal vacation destination.

Lake of the Woods Houseboat Rentals