Paint/Varnish
Published on Mar 22, 2010
Paint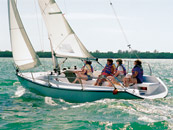 Paint is a pigmented chemical coating that you can use to protect and beautify nearly every surface of your boat—except the natural-looking wood stuff. What kind of paint you choose depends on how you use your boat, and what part of the boat you're planning to paint.
For example, if you keep your boat in the water for weeks at a time, your boat probably has a tendency to collect a variety of marine life on its submerged surfaces. In this case, you might want to consider coating the bottom of your boat with some type of anti-fouling paint. Most anti-fouling paints contain ingredients that aquatic plants and animals find distasteful, while others are really hard and slick, to prevent things from sticking to it—and to the bottom of your boat.
If you're pondering giving your boat a cosmetic makeover, a fresh coat of paint can do wonders for the appearance of an older boat. The trick to making the final product look as nice as those glossy photos in the boating magazines is to be fanatical about getting your boat ready for its paint job. Surface preparation is critical to the success of any painting project, even more so on a boat. Remember that paint isn't likely to hide many sins—it'll actually accentuate surface flaws, especially on a boat's broad expanses of hull area. Take your time and do it right.
Varnish
Varnish is a clear protective coating for a boat's brightwork (fancy wood parts). Unlike paint, varnish typically doesn't contain any coloring agents to hide the surface; rather, varnish tends to accentuate the wood's natural beauty.
Depending on where the wood is on the boat, the varnish may have a mirror-like, glossy shine, or it may appear to have a satin, matte finish. Whether glossy or matte, if the wood looks good, you can be sure that someone's put a lot of effort into making that woodwork into a thing of beauty. It's not unusual for a piece of brightwork to have ten or more painstakingly applied coats of varnish—a very tedious labor of love.