How To Choose The Right Boat?
Published on Mar 22, 2010
Hey There! Captain Chris here!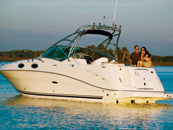 There is no secret formula when trying to select the right boat for you or your family. You first need to determine what you want to do with your new boat. Do you want to spend the night on the boat and go places for the weekend? Do you want to water-ski or fish? Does the boat have to fit into a garage or need to be towed to the lake?
 I have some tips for your that will help you become a happy boat owner in no time!
Choose The Right Boat. If you need help making your decision, make sure you check out the Choose the Right Boat feature on our web site. It has a list of all boat types with info on their uses and also lists manufacturers and their web sites for research.
Purchasing a boat is a lot like buying a car. You're making an investment for you and your family; make sure that you are comfortable with all aspects of your new boat.
Make certain you test drive the boat. Test the boat in water conditions that you will be using it in. If you boat on a lake that has rough water all the time, don't test the boat on smooth water on a windless day. 
 
 Make it a family decision. Get the kids involved in the purchase process. Whether it's deciding on the configuration of the cockpit/cabin or the colors on the boat, allow them to be a part of the process. In the end, they will enjoy the boat more knowing that they had a part in picking out the family's newest addition.
 
I'm anticipating that all my fellow boaters can help those that are looking. What suggestions do you have for first time boat buyers? What made you choose the boat that you did?
posted @ 7/14/2009 2:06 PM by Chris