How to Choose a Good Boating Club
Published on Mar 22, 2010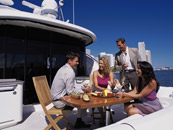 Hey There! Captain Chris here!
Joining a boating club or organization is another great way to enjoy your boat and meet people who share the same passion as you do. Personally, I am a member of my local United States Power Squadron and the United States Coast Guard Auxiliary and two other clubs in the area.
Here is a quick link on our site where you can locate a boating club or organization near you. If you're thinking about joining a club, there are a couple of things that you need to consider.
Cost: How much is my membership and what is included? Are there any additional monthly fees that I need to be aware of? Memberships at some clubs can be as little as $25 a year to costing you thousands a month, so make sure you know all the details before you join.
Events: Does the club offer weekend boat trips? Where do they go? How many trips are planned a year? What events do they offer outside of boating season? Weekend trips to other clubs can be a blast. Many clubs set weekend dates at certain local marinas in the area and spend the weekends at the marina on their boat. One of our local clubs has a dinner dance once a month in the winter to keep all members active. In the summer, they have BBQ's, corn roasts and other activities planned for us to enjoy.
Facilities: Do they have a club house that you can visit and socialize at? Are they on the water so that you can visit the facilities by boat? Once you arrive by boat, are there things to do, such as a pool, bar or restaurant. Do they offer shower facilities? Are they clean? If you have children, do they have facilities for the kids to play at?
Clubs and organizations have been a great way for my wife and I to be involved in the boating community and we have met many great friends. I would love to hear what makes your club or organization so great? Send me pictures of your club's facilities or an event and I will make sure to upload them to the blog.
posted @ 7/30/2009 10:26 AM by Chris