Houseboats Turn a Passion for Boating into a Way of Life
Published on Jun 27, 2004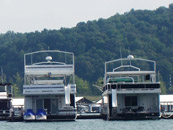 By Graham Garrison, Boating World, June 2004
If all goes as planned for Colin Osborn, he's hung up the suit and tie and is out on the water by early Friday afternoon. It'll take at least an hour to finish preparations for the trip. His wife Lisa and two sons, Michael and Matthew, ages 11 and 4 respectively, help out with the gear and groceries. Once they're stocked up, the family of four casts off, Colin at the helm, toward one of their favorite coves on Lake Cumberland, Kentucky.
By the time they make it, it's almost dusk, so the Osborns decide to grill out some hamburgers and watch the sunset, away from life's distractions.
There's absolutely, positively, no rush to the weekend. No need to go home that night or even the next night really. In fact, the Osborns could stay here all week if they wanted to. Owning a houseboat affords them that luxury. "It's a great way to get away," says Osborn.
Look again when you cross paths with a modern houseboat, and you may see something you didn't expect. They're not the tin box roof, worn-carpet types you may have become accustomed to years ago. Many boaters are finding there's more to houseboats — a lot more.
Bill Hopkins certainly had an image of houseboats framed in his mind, and it wasn't flattering. A friend convinced him otherwise on a dinner party cruise aboard his houseboat.
"When I got aboard this boat, I was stunned," Hopkins says. "This was a palace on water."
The reality is most new houseboats manufactured today are luxurious, and not just for boats, but houses as well. Some even rival neighborhood estates. Modern conveniences can be brought aboard. You can furnish your houseboat with a fully-equipped kitchen, including a Whirlpool refrigerator, granite counter tops, an oven and sink. Living rooms can be decorated with plush leather furniture, coffee tables and stunning entertainment centers. Decks with outside snack tables and hot tubs are great for hosting parties.
About the only thing limiting you from what to bring aboard is how big you want your houseboat. For instance, the Osborns' Sharpe houseboat measures 81 feet by 16 feet, and it has four bedrooms and two bathrooms. The living room has an L-shaped couch and a recliner for lazy afternoons, and is set up for a plasma screen television.
Bill Hopkins soon went houseboat hunting around Lake Lanier, Georgia, with his wife Myrle after the dinner party aboard his friend's boat. He's now the happy owner of a custom Sumerset houseboat and has made a few modifications of his own, including a fireplace, a home theater system and a cuddy guest room equipped for office work if he feels so inclined. Many houseboat owners set up small offices to finish work projects and get a head start to the weekend while out on the water, although Hopkins says he rarely worries about work while on his houseboat. "We use this as a getaway," Hopkins says. "Computers and phones are forbidden."
The choices on houseboat models are limitless, because most are custom-designed. Instead of picking out a boat model with certain standard features and a few options at a dealership, houseboaters sit down with a designer and plan out their dream houseboat as if it were a regular house, right down to the bedroom sizes and furniture options.
A Different Pace
Nothing about the Osborns' trip on the water says hectic. Once they've anchored or beached at their cove of choice, there are two kayaks on board to use for exploring. Saturday can involve swimming or snorkeling, or simply lounging on the couch for a marathon session of movies or sports games on TV.
"In this kind of boat, you're not going anywhere in a hurry," Osborn says. "The idea is to go out and tie up in a cove, be away from work and all of life's hassles."
Many houseboats are equipped with ramps for personal watercraft (PWCs) and even small runabouts. Hopkins constructed a ramp for his Sea-Doo Sportster and frequently takes it out for excursions, or simply to run an errand back at the dock. When it's not in use, Hopkins made a storage area for the PWC, so it won't be in the way when the family is hanging out on the deck.
Advances In Houseboating
A number of recent inventions and applications have improved houseboating. Houseboats are unique in their ability to beach despite their size, although with rocky shores and questionable depths in coves, boaters often feel skittish about making a landing with a fiberglass hull. Aluminum hulls make beaching a 50- to 90-foot houseboat easier and safer with stronger construction. The added stability has led to larger floor plans and amenities from manufacturers such as Sharpe and Sumerset.
Like any recreational vessel, houseboats come with their share of safety issues, one of them being carbon monoxide poisoning. Houseboaters could put themselves in danger by running their generators while some passengers swim off the rear deck where the emissions pump out. To prevent that problem, dry stack exhausts are now made for houseboats that reduce carbon monoxide emissions in all environmental conditions by releasing the emissions from the top deck of the boat.
There are even hybrid designs of houseboats for people who want a little versatility in where they go and what they do. SkipperLiner designs and manufactures coastal motoryachts, which are a cross between upscale cruisers and the space and floor plans of a houseboat. Monticello River Yachts makes a cross design between a houseboat and cruiser for freshwater use. Blue Water Yachts has a motoryacht designed with the ability to beach like any other houseboat.
Home Ownership
Houseboating isn't limited to boating season. For Hopkins, it wasn't even limited when he was on the shelf.
Hopkins recently recovered from knee replacement surgery, and one method of therapy was relaxing on his houseboat. With the comforts of home and the solitude of the water, Hopkins says it's easy to spend two or three weeks at his houseboat, and if he has to, he can commute to his Atlanta job from the lake. He typically spends two thirds of his weekends each year at Lake Lanier. "It's like having a second home in the mountains, except you can take it wherever," he says.
Maintenance isn't all that difficult either, says Hopkins. He puts about an hour into upkeep each weekend and says he doesn't come across many problems. Most of it is similar to household chores you'd find back home.
Osborn says houseboats are not only good for spending time out on the water, but they're also good investments. He sold his first houseboat for the same amount he paid for it, a rarity with pleasure craft. "You can usually make some money or at least get money back with this type of boat," he says.
Which is why many families who purchase houseboats treat them as second homes. Prices range anywhere from $100,000 to $500,000 for new houseboats. Families can outfit their vessel with just about any convenience from home and still enjoy all the activities they love on and near the water, from cruising to camping. For those who want boating to become a fixture of their lifestyle, owning a houseboat is fast becoming a way of life.
House Hunting
Want to learn more about houseboats of all shapes and sizes? Visit these manufacturers' websites: