Gearing Up For A Boating Day Trip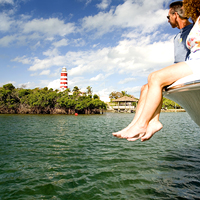 Boating
is one of the most enjoyable ways you can spend time with your
friends and family
. And if you take care to bring along the right food, drinks and other essential provisions, you can make sure your unforgettable day won't be tarnished by an easy-to-prevent problem such as a hungry teenager or a sunburned sister. All it takes is a little preparation, and your
boating day trip
will be remembered for all the right reasons. Here are some pointers to help get you started:
• First things first:
Make sure your boat has the proper safety equipment for everyone on board.
That means a properly fitted
life jacket
for everyone on board. For day trips, those orange jackets are okay for adults, but make sure all children (and anyone who will be participating in
watersports
) have a jacket that fits. It's a relatively small investment that will give you the peace of mind to relax and enjoy the day. And, it's one of the first things the local boating authorities will check if you get stopped for any reason on the water.
• There's something about the sun, fresh air and exercise that will stimulate the appetites of everyone on board. Make sure you bring along a variety of snacks tough enough to survive being tossed about during the day. Think sliced apples and carrot sticks over bananas. Choose Pringles in their sturdy can over easily crushed chips in a bag. Because of the moist environment, this is also a good time to spring for individual serving sizes for the kids' foods. Cheese sticks, fruit roll-ups, pretzels, animal crackers, etc. are also great options to keep them going between "meals." They will eat more than you think!
• Drinks are another area you definitely want to plan carefully. Have plenty of water and sports drinks. Go light on the sodas and energy drinks because those will go first and won't help with hydration during a day out in the sun. It's a good idea to keep the water in several convenient spots on board, so everyone grabs those instead of the other options. And be responsible when it comes to alcoholic beverages. That goes for the captain, crew and passengers.
• Besides your provisions for hunger and thirst, probably the most important thing to pack is sunscreen and lip balm. Bring plenty so you can reapply throughout the day. Swimming and toweling off takes off your UV protection, and you need to put it back on frequently. Kids (and adults) may fight it, but a quick application of sunscreen can prevent a very uncomfortable evening and all the attending long-term affects.
• If you're out in nature, you will eventually have to deal with bugs and dirty hands. Make sure you have plenty of insect repellent (particularly if you're going to beach the boat) and hand sanitizer for tidying up before eating all those snacks.
• Be sure to bring along extra swim suits, towels, water shoes, hats and sunglasses, and a change of clothes for the ride home. Somehow, you always need more than you anticipate. Better to have to it just in case. If you've ever ridden home from the lake in wet trunks, you probably already know this one.
A little preparation goes a long way, so think it through and make a list. It will make your day on the water that much more enjoyable for you and the rest of the crew.