For the Boater on Your List – Perfect Presents
Hey there! Captain Chris here!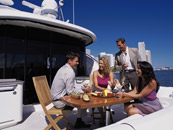 This past weekend I was asked by two different people what would be a great gift for the boater in their life. As I sat there and thought for a minute what I would want, what I need, and what i can always use; I came up with a short list that will meet anyone's budget. Take a look and let me know if I'm missing anything important:
Deluxe Pocket Knife - A sailor or a power boater cannot live without one of these.
Charts - You can never have too many charts of where you are going or where you boat is. Maps are continuously updated, so make sure that your captain has the most up to date and current charts.
Binoculars - Make sure that your captain can see what lurks on the vast horizon
Handheld VHF
Gift card to their favorite marine accessories store. Let them choose the perfect gift
Grills - This is a win-win for everyone. You get a boat ride and a great cooked meal, while your captain gets a great looking grill to add to the back of the boat.
Waterproof duffle bag -Waterproof bags are perfect for any boat and come in all sizes. Get one small enough for their cell phone and wallet or big enough to carry their clothes and food in.
Handheld GPS - Whether it' being used as a back up or as a primary GPS unit, handhelds are the perfect addition to any captain's navigational toolbox.
Folding Bike - Fold it up and put it under a seat, un-fold it and run to the store to get ice for your favorite beverage when you are at the docks.
Books - very captain should have a copy of Chapman's Piloting and Seamanship. Coast Pilot's and light lists are also great tools that are constantly being updated.
Weather Station - Looks great on a boat or in the house. Helps your captain know whether or not to leave the dock.
Non-Breakable Glasses -No more worries about dropping or breaking when your captain's crew gets tipsy from the waves.
Captain's Hat -My wife and daughter think that every captain should have their own captain's hat so they got me one.
What do you think makes for a perfect gift? As a boater, what would you want to receive? What gifts have you given?
posted @ 7/23/2009 10:24 AM by Chris