For the Boater on Your List
For the Boater on your List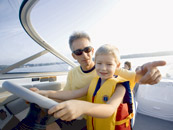 Having trouble buying the perfect gift for the boaters on your list? Here are some ideas that will float their boat!
Pull out the list they made in the fall when winterizing the boat. Every boater likes to add to or replace worn supplies for the following year, new skis, ropes, anchors and much more. Don't know what to buy? Gift cards to marine supply stores are handy come springtime.
An up-to-date GPS is a great gift and safety precaution for long distance travelers.
Some captains have all of their supplies taken care of, so a subscription to a boating magazine, geared toward boating in Michigan, such as Lakeland Boating or Great Lakes Boating might be the way to go. Tickets to a boat show are also a good idea for the boaters who like to get a taste of summer in the middle of Michigan's harsh winter season.   Boat shows offer a fun place to check out all the new boats, accessories and boating gadgets during the "off-season" and provide a great place to rendezvous with your boating friends for some mid-winter fun. 
Want to really surprise 'em? Find some good pictures from out on the lake. Make a fun collage of a lot of pictures or just frame a really special one.
Still shaking your head, how about a gift certificate to a boating restaurant? A restaurant along Lake St. Clair or a smaller one, like the Bayside located on Walled Lake; there are many lakeside restaurants all over Michigan.
There are also many accessories for the boaters who have nautical homes. A model replica or commissioned painting of their boat, a custom flag with the boat name on it, a Ship wheel wall clock and many other accessories Michigan boaters can enjoy in the winter too!

 

 

 

Content courtesy of Michigan Boating Industries Association.