Cooking Aboard Your Boat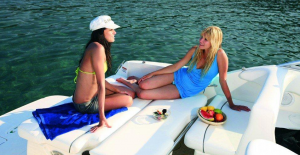 If you've been boating for a while, you may find yourself getting bored with the same old sandwiches and chips. And while on-the-water restaurants are convenient, you're still somewhat limited by access, menu selection and hours of operation. But with a little planning and the following handy tips, your taste buds (and your guests) will be happy and satisfied out on the boat.
Think Small
No matter how you slice it, the galley on your boat is smaller than your home kitchen. When you're working with a small microwave, a single-burner stove or even a propane or electric grill, you're going to need to scale back your production. Small cooking surfaces mean small food. Appetizers, salads and single-pan meals can be pulled together quickly and easily. Let the cozy confines be your inspiration!
Think Light
Being able to enjoy a long, hot summer day on the water is what boating is all about. However, the rocking motion of the waves combined the afternoon sun, means you want to steer clear of a menu filled with hot and heavy and stick to cool and light. Ditch the recipes that would require your guests to sit down with a knife and fork. A good steak may be your idea of a great boat meal. Can't argue with that. But why not transform it into a quick-cooking kebab that includes your veggies and can be eaten easily while relaxing on deck.

Think Prep
Your best mealtime friend when cooking aboard your boat might just be a quart or gallon-sized plastic food storage bag. You can use them to store pre-chopped vegetables, marinate meats, and a hundred other time-saving ways. After all, you want to your time on the water entertaining your guests, not hunched over a chopping board. The more you can do ahead of time, the less chance you'll forget a key ingredient. Prepped food takes up less space in the fridge or cooler, and you can reuse the bags to store any leftovers or use the bags to clean up after the meal.
Think Clean
Whether on land or sea any chef can benefit from the mantra: Clean as you go. But in a galley, things can get out of hand quickly if you leave all the mess until the end. Get in the habit of tidying up while you're cooking. A little bit here, a little bit there, and you'll have more room to work, you'll be more relaxed, and the meal will add to your fun, rather than just adding another chore. One quick thing to remember…resist the temptation to let your guests toss any uneaten food overboard. Always pack out whatever you pack in.