"I'm bored!"—if you had a dollar for every time your kids complained like this, you could probably buy another boat, right? Never fear, the ultimate remedy is here—or, rather, at your dock.
Your boat is the perfect way to beat boredom, especially when school's out—not to mention, a boat can provide the perfect on-demand summer vacation for families. To get started, try these six age-appropriate ideas.
1. Teach Them to Tie Knots
Even preschoolers learning to tie their shoes can do this. Kids and former kids (this writer included) learned to tie a bowline, for instance, thanks to the ever-popular "the rabbit and the hole" game. The Internet is filled with illustrated and video instructions. Once your kids master this, move on to the clove hitch, the square knot, and others.
5 Basic Boating Knots for Beginners
2. Get Crafty
Make something special together for the boat. Little ones can pick out fabrics and buttons for pillows, for example. If you have older kids, let them sew or handle a glue gun. Regardless of age, and especially to avoid squabbling, let each choose an area and what he or she would like to create.
3. Play "I Spy" While Out Cruising
Have each family member take a turn. "I spy with my little eye" can apply to red buoys, sandy beaches, big cruise ships, and countless things onboard your boat. Alternately, count how many sailboats you see in a day, or how many fish swim around your anchorage.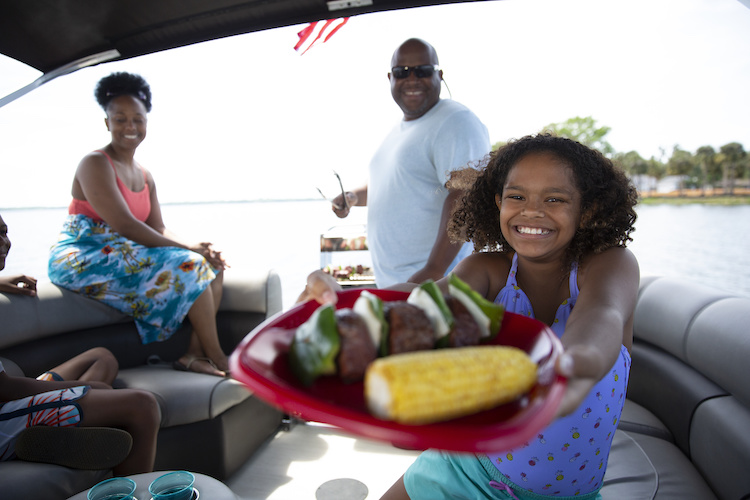 4. Cook Up Some Fun in the Galley
If your kids like to cook, involve them in meal planning and preparation. Kids of all ages can help with provisioning. Junior anglers can try their hand at catching dinner, too.
5. Learn a Watersport Together
Ready to dive into a new watersport? Try everything from wakesurfing and wakeboarding, to waterskiing and tubing. You can find how-to guides for beginners on all these watersports here on DiscoverBoating.com.
6. Plot a Trip Together
Spread your nautical charts on the kitchen table or call them up on your electronic chartplotter—learn more in How to Navigate a Boat.
Point out destinations and explain the distances, especially so your young ones can better understand how long it takes to get from A to B. Assign tasks based on age as well, such as researching marinas, restaurants, and other places to visit.
Searching for a New Boat for Your Family? Explore Boat Types
---
You Might Also Like: