Boating in Mackinac Island, MI
Mackinac Island
Boating Destinations & Boat Marina Locations: Mackinac Island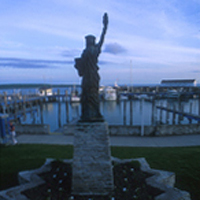 What images come to mind when we think of Mackinac Island? Its natural beauty could be the first thing you think of- the crystalline waters and sugar-sand beaches of the Great Lakes, not to mention a spectacular state park that was voted one of the top ten in the United States by National Geographic and Conde Nast Traveler.
But we may also think of Mackinac's quaint Victorian charm. Mackinac is also known for its gingerbread-house villages, cozy bed-and-breakfasts, graceful hotels, specialty stores, award-winning restaurants, and an island transportation system that's limited to travel by horse and buggy, bicycle, foot, or of course, boat.
A historical treasure, Mackinac Island is true vacationer's paradise that transports you back in time to the regal ease and charm of the nineteenth century. As you bike, hike, boat, or take a horse-drawn taxi carriage around the island, it won't be long before you'll be settling in to a pace of true leisure that's hard to find in many other boating destinations!
Many vacationers also favor Mackinac Island among boating locations because of its ideal balance between nature-oriented pursuits and in-town fun. Over 80% of the land on Mackinac Island is in public hands or under the protection of the Federal government, ensuring that its natural beauty remains safely protected and preserved. Renting a bike is a great way to tour the island, as is hiking along one of the countless nature trails.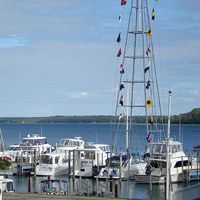 But there's also plenty of great food and fun shopping to be had, with a fabulous selection of one-of-a-kind shops, art galleries, and delectable restaurants that offer a range of cuisines. Downtown Mackinac Island also offers tours of significant historic buildings. Other popular activities include golf, horseback riding, swimming, and much more.
Featured parks include Fort Mackinac, the Old Mackinac Point Lighthouse, Historic Mill Creek, and Colonial Michilimackinac (a reconstructed 1715 fur-trading and military outpost). And of course, we can't forget Mackinac State Park itself, a wonderland of limestone bluffs, cedar and birch forests, and wildflowers that spans 1,800 acres.
Mackinac is also popular among boating destinations because of its world-class lodging and hotels, such as the regal Grand Hotel, with its 880 foot-long front porch (the longest of any hotel in the world) and its tradition of afternoon tea.
Of course, Mackinac Island is a premiere destination for boaters. Whether you're interested in sailing or fishing, local boat marinas feature a variety of boats that can be chartered for either full or half-day excursions. Canoe and kayak rentals are available as well. Private ferry cruises are also an option for those looking to host an event on the water. And scuba diving is always a popular pastime, as the Straits of Mackinac is one of the top locations in the world to explore lost ships!
Mackinac Island is also host to a many popular racing events, such as the annual "Race to Mackinac". Sponsored by the Chicago Yacht Club, this event is the largest freshwater yacht race in the world. Also popular each year is the Labor Day Regatta. If you plan on bringing your own boat to the island and need to make a reservation at the local boat marina, you can contact the Michigan Department of Resources for information on reserving a slip.