Two Sides of Lake Champlain
Two Sides of Lake Champlain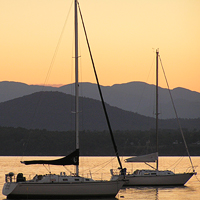 With New York State and the Adirondack Mountains on its western shore, Vermont and the Green Mountains on its eastern shore, Canada a few miles to the north and 80 islands—oh, and a sea monster— somewhere in between, there's a lot happening on Lake Champlain.
It spans more than 120 miles from its northern shore in Quebec to its narrow southern end at Whitehall, New York. Whitehall is at Lock Number 12 on the 60-mile-long Champlain Canal that connects to the Hudson River in Troy (there's a boat ramp with parking for 50 boat trailers in Whitehall). This is the center of the popular New York canal system where boats travel between Montreal along the St. Lawrence Seaway south through Lake Champlain to the Champlain Canal, the Hudson River and into the Atlantic. In fact, Treadwell Bay Marina owner Bob Wazeter points out the Atlantic is accessible by going either north or south on Lake Champlain (Treadwell Bay is a BoatU.S. Cooperating Marina with a 10-centper- gallon discount on fuel).
For centuries, there have been sightings and talk (more of the latter than the former) of a sea monster in Lake Champlain. Affectionately named "Champ," the beast even grabbed the attention of showman P.T. Barnum who offered $50,000 for "the hide of the great Champlain serpent to add to my mammoth World's Fair Show." Barnum never had to pay any reward but today, the Champ industry thrives with dolls, maps of sighting locations (complete with GPS waypoints), scientific studies with sideband radar scans and, of course, the stories. Even BoatU.S. Cooperating Marina owner Bob Carroll (Westport Marina in Plattsburgh, NY) has seen the sought-after dinosaur/serpent/ monster Champ.
"It was the late '70's/early 80's and my wife and I were driving when she said there was something out on the water," Carroll remembers. "I glanced to where she was pointing and sure enough, I could see two humps moving along in the lake. There was a wake. No question, there's something out there."
Explorer Samuel de Champlain (Lake Champlain's founder and namesake) wrote about seeing something in the water as early as the 1700's, as did the Indians. Champ is a Champlain legend. Carroll understands there are varying degrees of skepticism whenever he tells the story and even admits he's selling Champ dolls in the marina gift shop. "Children have told me they don't want to go swimming when they hear about Champ, but I'm always quick to explain that Champ is a vegetarian and has no interest in bothering them." It works.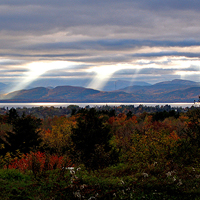 It's not just Champ that brings people to Champlain. The fish do too. In late March, there was still ice on Lake Champlain and with it, stories of anglers falling through while ice fishing. Now that it's summer, many of the boats on Champlain are equipped with rods, hoping to bring in bass, trout, salmon and northern pike. This month, Free Fishing Days will take place on both the New York side and the Vermont side of the Lake: New York Free Fishing is June 23-24 while Vermont's is June 9. Free Fishing Days means no state fishing license is required.
Named one of the top five bass fishing destinations in the United States by FLW Outdoors magazine, Lake Champlain has eight major tournaments scheduled this year, including the lake-wide, summer-long Lake Champlain International Derby running from June 1 - September 30, with prizes awarded every month in specific categories. There is also a Father's Day Derby.
"I always tell the fishermen to watch the wind," says Treadwell Bay Marina's Bob Wazeter. "Lake Champlain is 120 miles long and if you have a north wind, you've got a 120 mile long wind tunnel which is going to produce huge waves. Know the forecast and pay attention to wind direction." Trailer boaters should also know that zebra mussels have taken up permanent residence in the lake. While these aquatic nuisance species have made the water clearer, boaters are being asked to inspect their hulls, trailers and outboards before launching for the first time in other lakes after boating in Lake Champlain. In addition, fishermen are asked to make certain bait buckets aren't dumped in one lake with bait taken from another lake. Champlain scuba divers are now asked to thoroughly rinse wetsuits in an effort to keep zebra mussels from multiplying.
The Revolutionary War may be traced along all of Champlain's shoreline, beginning at Valcour Island, a 969-acre extension of Adirondack State Park just south of Plattsburgh. This is where the first naval battle occurred (the first navy having been assembled in Whitehall), when Benedict Arnold was outgunned by the British sailing south from Canada in 1776. At nightfall, Arnold directed his ships to paddle past the British ships and they did so undetected, escaping what was certain to be a disaster. Today, the island is the site of Bluff Point Lighthouse—built in 1874 and recently renovated—which is open for tours by special arrangement with the Clinton County Historical Association (www.clintoncountyhistorical.org).
Farther south and in the same year, Fort Ticonderoga was taken from the British by Benedict Arnold as well. And he used a similar plan of attack by paddling across the narrow waters of the lake in the middle of night from what is now Vermont, surprising a sleeping sentry and taking control. The following year, a 400-yard -long boom of logs was placed across the lake between Fort Ticonderoga on what is now the New York side and Fort Independence on the opposite shore to capture British ships trying to sail south and capture Albany. Both forts are open to the public and there's a launch ramp with parking for 55 trailers within walking distance of Fort Ticonderoga.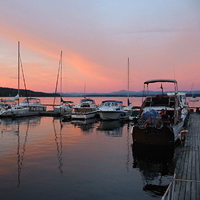 Because driving from one side of the lake to the other would require at least an hour, three ferries take cars (and boat trailers and semis, for that matter) between New York and Vermont on a regular basis. They operate between Plattsburgh, NY and Grand Isle, VT at Champlain's midway point; Port Kent, NY and Burlington, VT farther south; and Essex, NY and Charlotte, VT even farther south.
"South Hero is a 10-minute boat ride from here," says Bruce Deming, manager of Champlain Marina (a BoatU.S. Cooperating Marina in Colchester, VT). "We're in Malletts Bay and there's lots of deep water. I also suggest people go to Burton Island State Park which is farther north. There's three miles of shoreline and it's in the 'inland sea' part of the lake (Lake Champlain is the result of a glacier that melted and at one time was part of the Atlantic Ocean). A fossilized whale has been found along the Vermont shoreline of the lake. Burton Island has camping, a 100-slip marina and 15 boat moorings. Reservations are needed in the summer."
Most of Lake Champlain's 80-plus islands are in Vermont as a result of the way the state lines are drawn down the center of the lake. The largest islands, South Hero, North Hero, Alburg and Grand Isle can be reached via Highway 2 that begins just north of Burlington, VT on Malletts Bay, crosses the lake to South Hero Island and threads its way north. There are boat ramps on all of these islands, many located in or near the many campgrounds. In Westport, home of Westport Marina, an old train station has been transformed into a theater. Once the stopping-off point for the Delaware and Hudson line, the Depot features live bands as well as community theater on a yearly basis. Westport Marina owner Bob Carroll says the remoteness doesn't suit everyone. His family once offered a room in their home to a band's New York City drummer while the group was performing for a few nights at the Depot. "She spent one night in Westport, played one night at the Depot and the following morning politely told me she had to get out of town because it was just too quiet here. She said she had to get back to noise." The Burlington, VT waterfront includes not only a seven-mile bikepath passing through Waterfront Park, but a busy boat ramp near Perkins Pier at the foot of Maple Street. Docking for an afternoon (or overnight) is possible at the waterfront's.
The Vermont Mozart Festival holds frequent waterfront concerts (some feature composers other than Mozart) beginning mid July. It attracts many boaters who have dinner with background music originating from the shore. (right) Westport Marina is a BoatU.S. Cooperating Marina. Content provided by Trailering Magazine