Boating in the Abaco Islands, Bahamas
Abaco Islands, Bahamas
So Close Yet So Far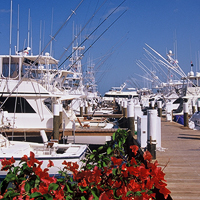 You can go a million miles away by simply traveling east from Florida's bustling coastal ports about 250 miles. That's where you'll find the Abaco island chain, a 130-mile arc of Bahamas Out Islands. Some people come for the fishing, some for the shark diving, while others make the trip to simply do nothing at all. Regardless of the goal, boating in the Abaco Islands is worth the trip.
Harbour, with its one traffic light and 1,110 residents, is the third-largest town in the Bahamas. Everything you could need or want is available here—not true of all of the other Abaco islands, so this is the place to provision and bunker. But Great Abaco is also much more than a fuel-stop destination. Mermaid Reef, just offshore, is one of the island group's best snorkeling spots.
If you want to hang around a while, the Conch Inn is the largest marina with 80 slips, full amenities, a harbor-front bar/restaurant and a nine-room hotel. Opposite the Conch Inn is the 68-slip Marsh Harbour Marina with the Jib Room Bar and Restaurant. North of Marsh Harbour is Treasure Cay Resort and Marina. It offers 150 slips and can accept vessels to 140 feet. Besides the usual amenities and the excellent Spinnaker restaurant, Treasure Cay is home to the only golf course in the Abacos. The Harbor View Marina offers 38 slips and can accommodate vessels up to 110 feet. On the island's southeast shore are the Great Abaco Resort and Boat Harbour Marina with 180 slips.
One of Great Abaco's satellites is Elbow Cay and picture-postcard-perfect Hope Town. The settlement's signature is its 1863 red-and-white, candy-striped lighthouse. Visitors can climb to the top for breathtaking views of the Harbor and the turquoise expanse beyond. About three miles outside Hope Town is the Sea Spray Resort and its 60-slip marina, which can handle boats up to 110 feet.
Green Turtle Cay's New Plymouth is like a step back in time. It's home to just 500 people and looks remarkably like Colonial New England. It's also filled with appropriately quaint shops and inns, such as the New Plymouth Inn and Bluff House. The latter completed the renovation of its 45-slip marina in 2004. Black Sound Marina offers just 15 slips and a max size of 140 feet. The Green Turtle Club and Marina offers 40 slips and full services.
Only about 150 people are lucky enough to call Great Guana Cay home and claim its lovely five-mile beach and expansive barrier reef their own. Great Guana Cay is just south of Green Turtle and north of Man O War Cay. Port into the marina at Orchid Bay. It has 66 slips, 32 of which are deepwater.
Man-O-War Cay displays a proud, boatbuilding heritage that has been carried on by the Albury family for longer than anyone can remember. The Man-O-War Marina is dredged and can to maintain eight feet at the dock during low tide. It can accommodate yachts up to 115 feet.
Off to the north and east is 100-acre Walker's Cay, an adventure-lover's outpost. Known for its shark dives and excellent fishing, Walker's is still a place that welcomes families. Walker's Cay offers 40 boat slips in a sheltered, deep-water marina.